Minecraft Steve Costume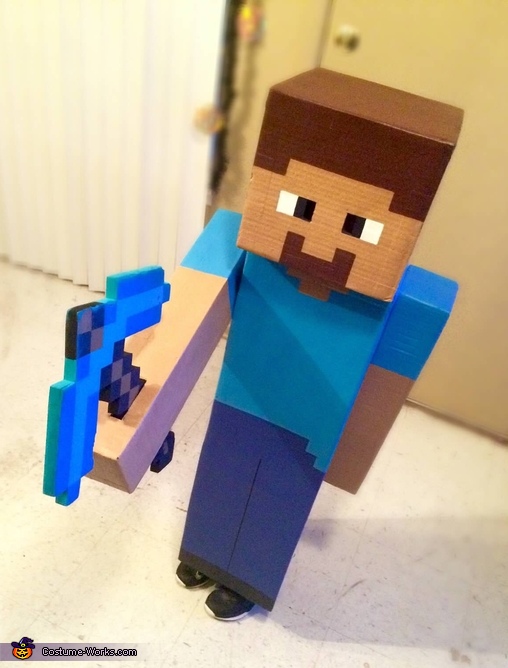 Minecraft Steve with Pickaxe.
More views:
(click to enlarge)
A word from Alfred, the 'Minecraft Steve' costume creator:
Hi! This costume is based off a character named Steve in video game called Minecraft. My son Jaidyn is in love with this game so why not turn that into a costume!
I started off by drawing a simple sketch of the character body, then taking measurements of my son (head, body, arms, etc). I decided to make the body and legs all one piece and just cut out a small section in the back for my sons legs. Just to make it easier for him to walk in. It's pretty clear that cardboard was going to work best for this costume... which I found plenty of at a local store. I picked up more than enough boxes just incase for mistakes or anything in that nature. It's best to have plenty than run out and have to make another trip to get more! After that I began cutting the boxes to the measurements I took. This part of the step takes some time. I used a tape measure, a ruler, a pencil, and a box cutter for a cleaner cut but you can also use scissors. After cutting all my pieces that I needed, I used packaging tape on the inside and outside to put together the pieces. I found it easier to cut in sections first then tape right after to eliminate confusion and getting pieces mixed up. (i.e. cut arm pieces then tape, cut body pieces then tape, etc). I then measured where the cut outs need to be for my sons eyes, head and arms to go through. Now comes the test fitting... surprisingly the costume fit perfectly! My son already had a pickaxe that we purchased from Walmart a while back, so that worked out perfect as a prop! (They also sell it at Target or Toy R Us). Next comes the painting which takes patience! I used Tuquoise, Dark Blue, Tan, White, Black, and Chocolate Brown acrylic paints. I used an image from the Internet just to use as a template on how to paint it and how the character looks. Like I said this step took some time and patience! I know that the character is pixelated but I figured just painting it a base color would look just as fine in my opinion. Well there you have it, Minecraft Steve... hope you all enjoy!