Mighty Ducks Baby Bash Brothers Costume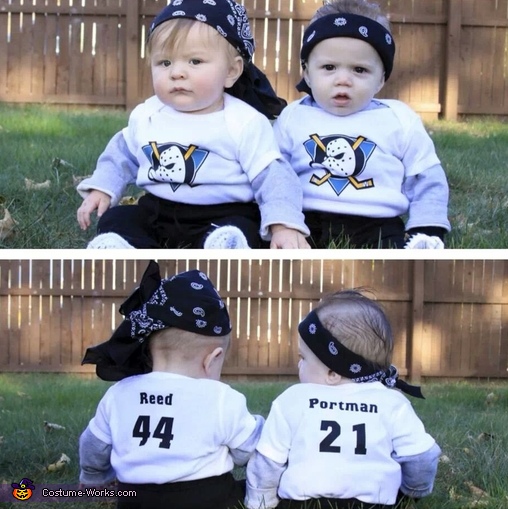 Baby Bash Brothers!.
A word from Allie, the 'Mighty Ducks Baby Bash Brothers' costume creator:
In this photo is my son Finn (left,6 months) and my baby cousin Dominic (right,also 6 months! ). They are only 16 days apart. My cousin Krissy (Dominic's mom) and i are first cousins. We grew up together,and shared a love for hockey and Coach Gordon Bombay and his Mighty Ducks!. When we both became pregnant with little boys,we almost immediately knew what their first Halloween Costume would be. The Baby Bash Brothers!. A friend of ours made the custom onesies. We also had a delightful company in the UK make them hockey skate booties!. We bought 18 month sweatshirts to put under the onesies. It makes them look 'bulky',like having pads on underneath. We also bought the bandanas and black pants. Total cost for the whole costume was approximately 60$ each!. We cant wait til they play hockey together as they get older. Bash Brothers for life!.