Midnight Ahri Costume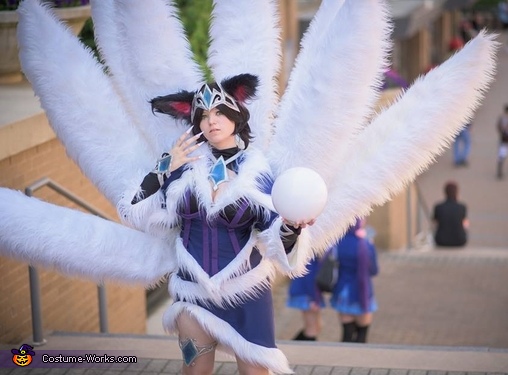 League of Legends Midnight Ahri
More views:
(click to enlarge)
A word from Tasha, the 'Midnight Ahri' costume creator:
This is my Midnight Ahri costume, a nine tailed fox character from the video game League of Legends. She is my favorite character from the game, and I wanted to portray her as best as I could!
It is made entirely from scratch and modeled by me, Tasha Blanchard! This costume took a total of 21 days to make, and I spent around $200. I hand sewed all nine tails using faux fur from an online store. They are stuffed with air packaging pillows to make them as light as possible. The harness is made from a wooden plate that rests on my lower back, and aluminum rods are embedded into the wood. I cut PVC pipes to be half the length of each tail, and slid the pipe over each rod. There are long wooden dowels inside the PVC to keep the rest of the tail straight. Lastly, two belts are screwed into the wooden plate to secure the tails to my back. The whole outfit is patterned from scratch. This includes the bodice, sleeves, cape, and skirt, which are made with performance fabric. I created a stretch boot cover for the shoes, and decorated them with the same purple bias tape details that are also on the bodice. The headpiece, necklace, and armor pieces on my wrists, leg, and boots are created with a thermoplastic called worbla, which is spray-painted silver. All seven gems located in the crown, necklace, bracelets, leg piece, and boot armor are all cast from resin. I sculpted each gem from clay, baked them, sanded them, wet sanded them, covered each in liquid latex to make a mold, and then filled each mold with resin which is dyed with blue food coloring. The ears are made from scratch, and the inside of both ears are airbrushed to be black and red. I made my own fangs from fake finger nails and attached them to my teeth with denture adhesive. My orb prop is made from an acrylic lighting globe with a battery operated LED light inside.
I'm only 16 years old, and I want to encourage anyone of all ages and skill levels to express their creativity, and to not be discouraged if you think you're incapable of making the costume of your dreams!
https://www.facebook.com/TashaLeeCosplay