Michael Jackson Costume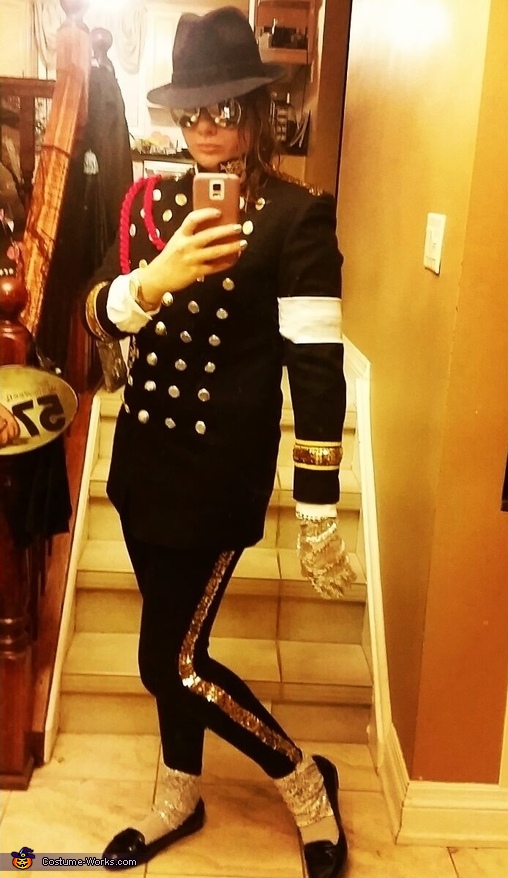 Me as Michael Jackson
More views:
(click to enlarge)
A word from Laura, the 'Michael Jackson' costume creator:
I (Laura) am wearing the costume. I have been a Michael Jackson fan since I was young, and I finally had the time to make the costume inspired by my most favourite artist!
. The tights and blazer are store bought, however I modified them to suit this costume. This is what I did:
For the tights, i purchased gold sequin from a fabric store and stitched it along the side of the tights. For the blazer, I purchased it from a vintage shop. I loved the military look because it resembles many of the blazers that Michael Jackson would wear. I modified it by adding 4 extra rows of gold buttons, along with the same gold sequin i used on my pants along the shoulders to match it. The buttons were purchased also at a fabric store and were a special order, since I needed so many of them. I tried to match the original button on the blazer as close as possible.
I also added the silver armband around the right arm, which is something Michael Jackson would often wear.
I purchased red yarn from a fabric store and twisted it to look like a rope, which was inspired by an outfit he wore to an awards show. I uploaded a side by side comparison of me along with the photos of Michael Jackson that inspired this outfit.

The shoes are black loafers purchased at H&M. The glove and glitter socks are part of a Michael Jackson costume kit, but that is the only thing purchased from a costume store. The aviators and fedora hat were purchased at a flea market.
The hair is my own, I just curled it and put it in a pony tail.
Under the blazer I am wearing a white v neck shirt, also inspired by him.

This outfit took several months to perfect. I hope you enjoy it! Even if I don't win, I am honoured to be considered, thank you!