Mermaid in Pirate's Treasure Chest Costume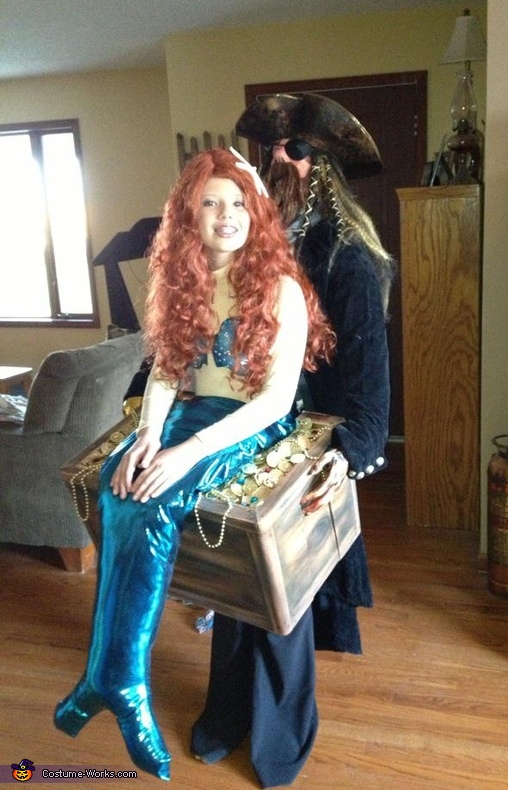 Mermaid in Pirate's Treasure Chest
More views:
(click to enlarge)
A word from Danielle, the 'Mermaid in Pirate's Treasure Chest' costume creator:
This is my daughter Taylor this year for halloween. The idea came from the instructable website where there is an awesome how-to on this costume. The pirate was created from a mold of my boyfriends torso with duct tape. A pool noodle was used for the arms and a styrofoam head was used as the pirate head. The pirate was stuffed with polyfill and I hot glued a small backpack to the pirate belly and covered the straps with nude duct tape. Pirate mask has hat attached. The eyes, nose and mouth were covered with masking tape and we drew in eyes, dirty nostrils and narly teeth with markers. I also added a jack sparrow wig to cover the back of head because the mask was not a full mask and an eye patch. Large black pirate jacket purchased from costume shop was a perfect fit and a scarf from my closet to cover his chest. I used a plastic hook for one hand and a bloody severed hand for the other side (we airbrushed the hand to look dirty instead of bloody). I also attached a parrot to the shoulder of the pirate. The Pirate legs are my daughters and she just wore a pair of my black dress pants with some brown boots.

Pirate treasure chest started out as a large styrofoam cooler that I cut a section out of the back the width of my daughters hips. Created a faux shelf on the top of open cooler and covered with duct tape then sprayed the top gold. I then hot glued mardi gras coins all over the top then sprayed gold. I sprayed beads and a plastic skull gold and glued those on various different places on the pirate chest. I also had some gems left over from some other project and glued those on. The treasure chest was airbrushed to look like a wooden chest thanks to my talented boyfriend. A belt was made out of a couple of old bag straps and a caribener that hooked together behind my daughters waist. Straps secured with drywall screws. Inside the treasure chest we also put a pool noodle with a wooden stick through it to keep the chest from hanging to low.

The mermaid wig purchased online, the starfish i glued a bobby pin on so it would stay in hair. Nude bodysuit for the top with plastic seashells glued on that are airbrushed to match tail/fin that I sprinkled glitter and glued gems onto to make it sparkle. The fin was made from fabric from a local fabric store in their sale bin and was chosen by my daughter. I filled it with polyfil and attached it to the opening of chest with drywall screws.

I attached velcro to hook and hand to secure them to chest when costume was on.

The costume was a little difficult to trick or treat in because she couldn't move to fast but was a huge hit!! She won a prize for Most Outstanding and a prize for Homemade costume at our local costume contest. I loved watching people trying to figure the costume out!!!!