Megatron Costume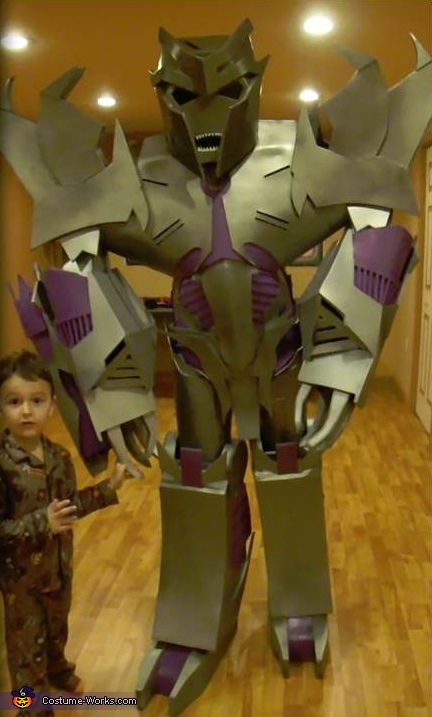 95% completed
More views:
(click to enlarge)
A word from John, the 'Megatron' costume creator:
HI! What you are seeing is our HOME-MADE Megatron costume from the animated series "Transformers Prime". My 4-YO son (Ryan) and I LOVE to watch it together. And after not dressing up for Halloween in over 15 years, I decided it would be a cool father/son project to try making this for me to wear on Halloween 2012.
This is a 100% EVA foam costume. We used about 60 floor foam tiles and this foam sheets (similar to the material you'd find on a gym floor). It's put together with hot-glue, and spray-painted to mirror Megatron's metallic finish with purple energon accents.
I tried it on for the first time just a few days ago (boy does it get hot in there!). That's what the pic here shows. Since then, I've added lights for the eyes and a sound effect for the cannon.
If you do an online search for Megatron (from this series), you'll see we have been able to replicate him very well. It took us over 3 months to complete, and considering we have NO artistic capabilities, and had never tried something like this before, we were really happy with the outcome.
Him and I will be trick-or-treating together...and he will be dressed up as my arch-enemy Optimus Prime (using a regular store costume).
Ultimately my goal in doing this was to create a great lifelong memory for him to look back on and also teach him to never be afraid of trying new things. I hope I succeeded!
Thanks for looking at our costume. Happy Halloween everyone!