Medusa Costume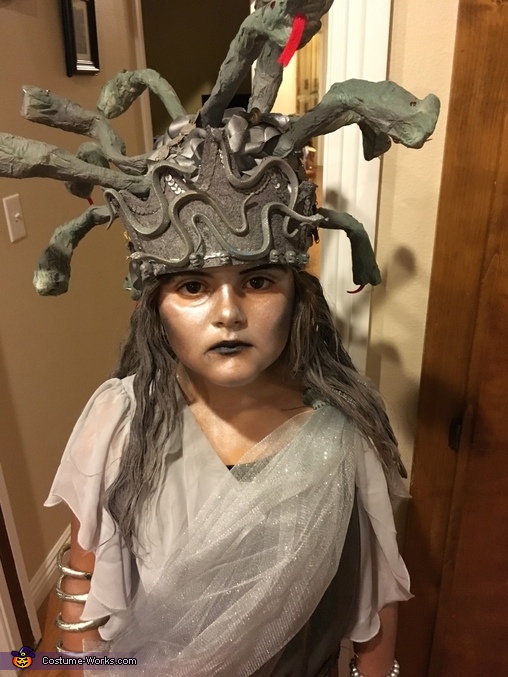 Medusa Costume
More views:
(click to enlarge)
A word from Veronica, the 'Medusa' costume creator:
One night my daughter and I were watching a movie called "Percy Jackson and the Olympians". There is a Medusa character in the movie that my daughter really liked. That is how she decided she wanted to be Medusa for Halloween. I did some brainstorming for a couple weeks, and decided that the best way to make the head piece would be out of plaster. The snakes were made from household items like newspaper, toilet paper, wire I had in my shed for gardening, and regular school white glue. I cut pieces of wire in different sizes. Rolled newspaper and taped it then rolled wire inside the newspaper and secured with tape. In a bowl put 50/50
glue and water. Took squares of toilet paper and glued in onto the newspaper shape I had made earlier by dabbing a paintbrush into the glue mixture and wetting the toilet paper. Kind of like paper mache. I let them dry over night. I put Saran Wrap all over my daughters head then started applying plaster wrap I had cut into strips. Applied wet strips all over head to create a plaster helmet. I carefully removed it once dry and hard. Once snakes were dry I applied them onto plaster helmet with more wet strips of plaster wrap. Once the whole thing was dry I spray painted it with a texture green color and gray over it. Put jewels from dollar store as eyes. Cut some red felt tongues. I made her crown from a pink Happy Birthday crown she had. I spray painted it gray color and glued on to it some toy snakes from dollar tree I had spray painted also. I also made braids out of gray ribbon I had from Easter. I applied the braids onto the helmet in between the snakes to cover the texture of the helmet. I put on some silver makeup (eyeshadow) I already had all over face and arms. She had an old gray dress and I applied a gray curtain over to look like a toga. The only things I purchased was the plaster wrap $5, snake on arm $2, spray paint $4,white spray for hair $1, and plastic snakes for crown $1. Total $13 to make! The hours put in and hard work is so worth it when I see the smile and joy it brings my daughter!