The (Not So) Great Slendini and his assistant Magnificent Mallory Costume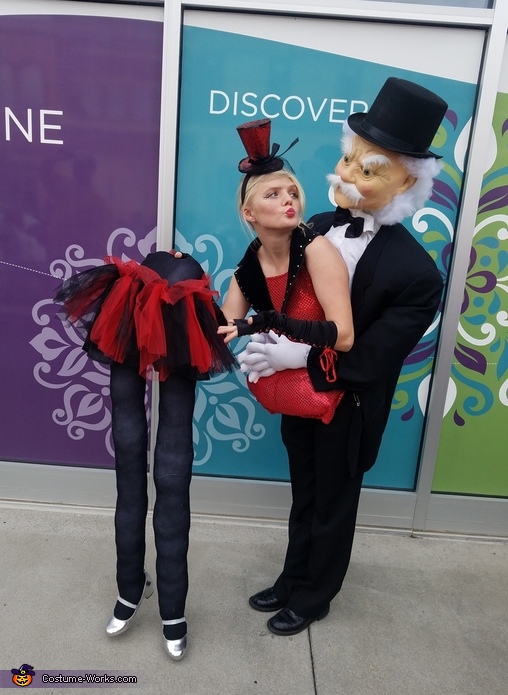 Oh Splendini look what you've done now.
More views:
(click to enlarge)
A word from Melanie, the 'Magician and his Assistant' costume creator:
This is my teen daughter wearong this costume and every year we try to be original and are huge fans of optical illusion constumes. After some brainstorming between mom and daughter we came up with this character- The (Not So) Great Splendini and his fabulous assistant Magnificent Mallory.

It took us a mix of new bought things and second hand bought things as well as stuffing, sewing, hot-gluing and pinning to. put this costume together and on
How the magician us made- Styrofoam ball with ice cube eyeballs hot glued to them and all hot-glued to 3inch PVC pipe and covered with Store-bought Grumpy old man rubber mask stuffed with Poly-Fill cotton for shape and fullness. Polyfill cotton hot-glued around the head for hair. Top Hat store bought and hot-glued to mask. Placed the pvc pipe Magician head in a snug backpack and had daughter wear under her magician's assistant costume to hide it. Men's suit jacket, white shirt, and white gloves bought from 2nd hand store then all sewn together and stuffed to look life-sized, used a dowel rod to hold the shoulder's shape. Pants and shoes from second hand store cover my daughter's real legs. The Magician's assistant - costume top handmade. Headband top-hat and gloves are store bought. Legs are black tights stuffed with Polly-fill and sewn together with handmade tutu. Silver shoes for extra pizazz. Everywhere we went people loved the costume. We were greeted with many people who were amazed that our costume wasn't two people. Walking down the street got many double-takes and requests for photgraphs. Parents asked if their little kids could be introduced to both the magician and his assistant and the kids very excited to be able to ask such questions as; "How old is he?" "Isn't that magician tiered of holding you?" "How will you get put back together again?" It was so fun for my daughter to play up the whole act as Magnificent Mallory exclaiming she wasn't sure if workman's comp would cover this fowled up trick.
This was so much fun to do together as daughter and mother. Halloween is our favorite Holiday and even of we don't win we hope this homemade costume will help inspire people to have fun with their family and continue to make memorable holidays together.