Love You S'more! Costume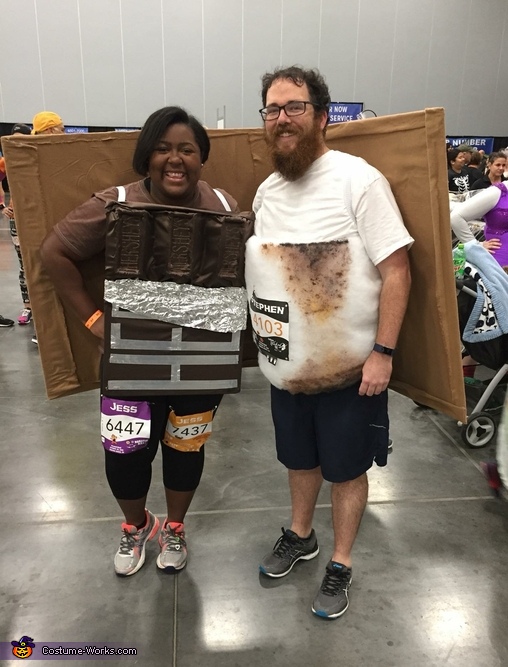 The perfect pair!
More views:
(click to enlarge)
A word from Jessica, the 'Love You S'more!' costume creator:
We're engaged and we've been trying to come up with a tasteful costume to play off of our interracial relationship since we've been dating! We came up with the s'mores idea on a whim! We made his costume using a collapsible laundry basket and quilt batting. I hand beveled the bricks on my Hershey bar, used shiny, thin duct tape for the letters, and used foil for the wrapper. We cut a flap off of a trifold poster board and used it to reinforce the other flap open. Once we had the base, we glued and crafted all the details onto our costume. I used brown fabric paint to write Hershey's onto each brick. I used a variety of brown and yellow shades to sponge on the toasting detail for the marshmallow. There was a lot of meticulous gluing for the perforation and "holes" for the graham crackers! I even dyed a white shirt brown to match the chocolate bar. We had a ton of fun wearing our costume for a Halloween themed 10k. Everyone loved our costumes, even little kids! It was awesome to see everyone's reaction to our handcrafted campfire snack!