Lobster in a Clam Shell (stroller) Costume
This costume was our 1st place winner for the Halloween Costume Contest in 2009. It is a VERY creative "float" type costume using a stroller as it's base. The Creator of this costume is Marshall and his newborn infant is the "Lobster" Ü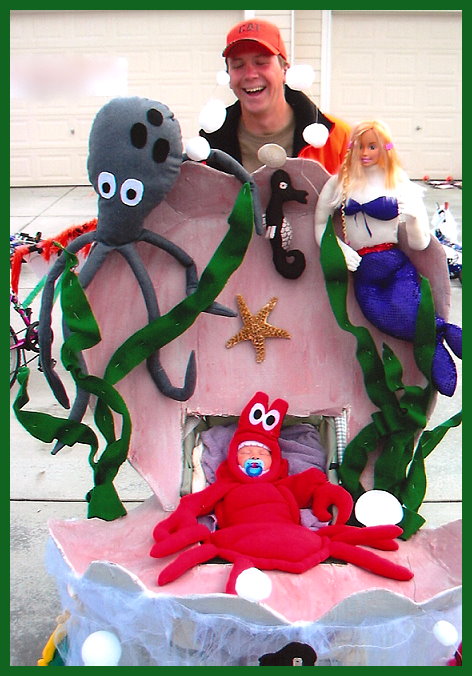 "Lobster in a clam shell"
In Marshall's words:

Took a stroller to create the clam shell. I took one big cardboard box and paper mached it into the shape of a clam shell. Painted the shell outside white, inside pinkish. Had to put cushion where my son layed as he is only 3 weeks old. Made a mermaid from a pillow for the whole body then coverd the tail with sparkly gem material to include the swim top. Used a doll head for mermaid and glued it in there. Black seahorse also made from a pillow with sewn black material and white material for belly and eyes. Just glued a starfish and glued on sanddollars everywhere to include hanging sand dollars up in the air. Green seaweed is felt that is strung out and pinned to everything. Octoppus is made from a pillow again with gray blanket material with black and white material glued as eyes and spots on head.
The Lobster:
The lobster is made from a blanket. I drew out a pattern on newspaper took the material cut and sewn together. Made legs/claws and stuffed with pillow stuffing glued white and black material for eyes, white material for teeth. Stuffed my son with warm blankets so he would be warm.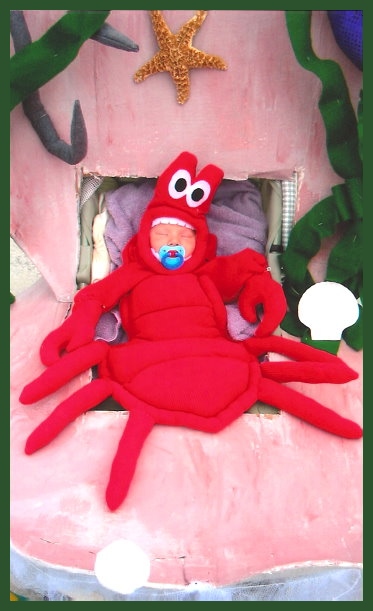 Baby in a "Lobster" costume

Thanks for sharing this fantastic creation with us Marshall! Ü



View other Homemade Costumes for Babies:
If you don't have the time or the inclination to MAKE a costume this year. If you've thought about it, but your heart, for whatever reason, JUST isn't in it...You can probably purchase a costume of the type you were planning to make...and maybe even for about the same as you might spend on the materials to MAKE a costume. On the other hand, you may look around and spot a Costume that changes your Costume plans completely Ü.

Back to Homemade Halloween Costumes Main Page