Little Jack Skellington and his dog Zero Costume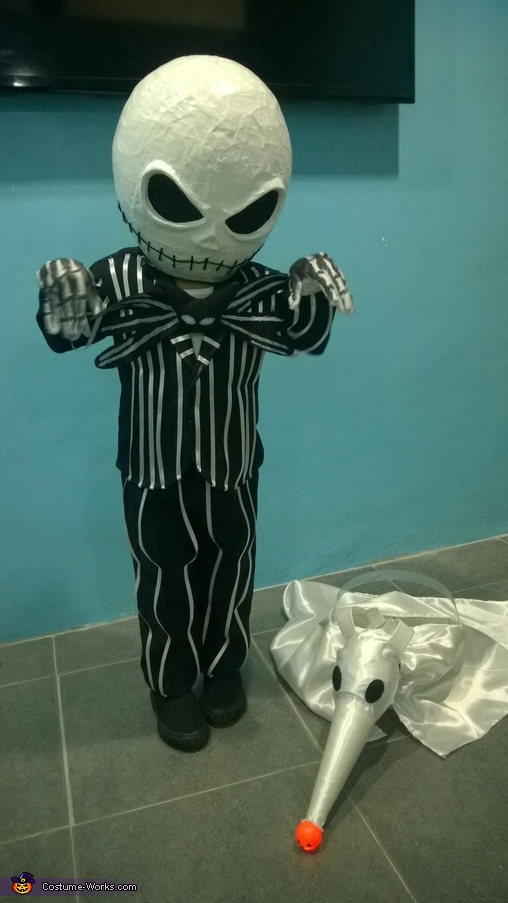 Little Jack Skellington and his dog Zero Costume
More views:
(click to enlarge)
A word from Donna, the 'Little Jack Skellington and Zero' costume creator:
My son David was watching the 'The Nightmare before Christmas' on the TV and said he wants to be Jack. So I tried searching for a costume online but there weren't so I decided to make a customized one for him.
HEAD
I used a balloon as a foundation for my paper mache, after making the head, I shaped the eye and the node section with another batch of paper mache and cut a hole on the eye section. Now for the eyes I've glued a black net, and for the lips I've put a hole on each stitch so that the black yarn will not fall off, and glued it with a glue stick.
COAT and PANTS
since there is no striped coat and pants we can buy, we bought a regular black coat and pants and I've sewed a white thin ribbon and also sewed a felt cloth for the coat's extension.
RIBBON
using a felt cloth I've cut-out the wing looking ribbon and with the same material I sew a cat; I've stuffed the cat as well so it would highlight, then painted the eyes and details of the ribbon with a white paint.
GLOVES
we bought a plain white gloves and painted the details of the bones
MAKING ZERO candy basket
HEAD and NOSE
same with Jack's head, I used a small balloon to shape the head, and for the nose I curled a cardboard int a cone and attached it to the head after the paper mache had dried off. I found an unused orange ping-pong ball in my son's toy box, so I used that as Zero's nose, and for additional treat I've put a samall flashlight inside the nose so that the nose will light up. I've also drew a face on the ping-pong ball like on the movie. I used a soft plastic for the ears so that it would still wiggle when it moves and covered it with silk before attaching it to the head. After that I've secured the neck part and covered it with a silk white cloth. using a black felt cloth as his eyes(sewing it on the silk) and attaching everything in an old plastic cookie box. And for the final touch I've knit Zero's collar.
HANDLE
I used the same plastic I used for Zero's ears for the handle, attaching it on the inside of the cookie box with some tape and a glue stick. and again covered everything with a silk cloth so it would look presentable.
And all this cost us for about $18, because we had to buy his coat and pants, but if there were a rental for kids, it would have been more cheaper.