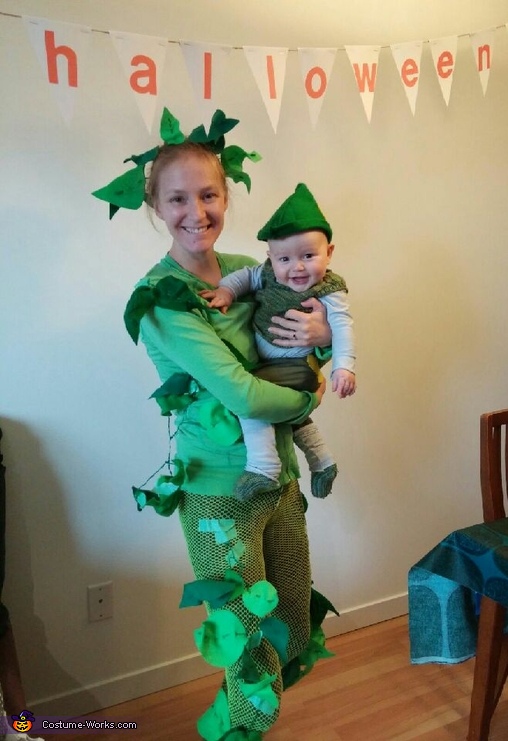 Jack, the Beanstalk and the Giant Costume
More views:
(click to enlarge)
A word from Nancy, the 'Jack, the Beanstalk and the Giant' costume creator:
I am on maternity leave and was super sad I was going to miss Halloween at work. I work with many talented and creative coworkers so costumes are always a must. There are always amazing individual and group costumes and a big costume contest. Halloween is probably my favorite day of the year because of the costumes not the candy. I had recently sold my beloved industrial sewing machine to make room for my son's crib so this costume is super easy and cheap to make. I have been dreaming up our costume since last Halloween and it was down to Jack and the Beanstalk theme or Aladdin. With no sewing machine and limited time it was an easy pick. Our son who is nearly six months is Jack, I (mommy) am the Beanstalk, and daddy (6"4') is the Giant. We were going to be out and about for most of the day so this costume works well for driving in the car, fitting in the car seat, breast feeding.... you get the point. The Giant costume is easy- grow a beard or paint one on, pick some clothes out of your closet that look like the kind of Giant you want to be. We went with the comfortable plaid shirt. Our son who is six months was Jack. He wore a comfortable outfit from his closet and a felted hat hand sewn out of two pieces of felt which were 50 cents each. Overalls would be a super easy outfit for Jack if you weren't given a lovely hand knit vest and booties like we had. The Beanstalk costume is super easy as well, just find any green clothing you have. I happen to have some fishnest tights from a past costume which worked out great. The leaves were made by cutting felt pieces and threating gardening wire through slits in the felt (all bought at the dollar store). The beanstalk was taped on for quick and easy removal with painting green tape.