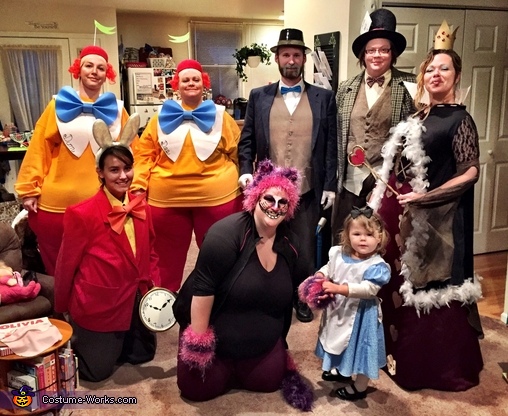 Alice in Wonderland group
More views:
(click to enlarge)
A word from Amber, the 'Alice in Wonderland' costume creator:
This group consisted of my 2 1/2 yr old daughter, my partner, and some friends of ours. My daughter is very inquisitive and also loves the Alice in Wonderland story so we thought all the fun characters would be a great group costume. We made all the costumes ourselves, and we even had a couple of get-togethers where we brainstormed and helped each other out. Some costumes have pieces bought and put together from the thrift store. Alice's dress and apron was 100% sewn from scratch. The Queen's costume was put together using parts of an old pirate wench costume and a bridesmaids dress. It was a lot of fun and we're already talking ideas for next year.