LEGO Superheroes Costume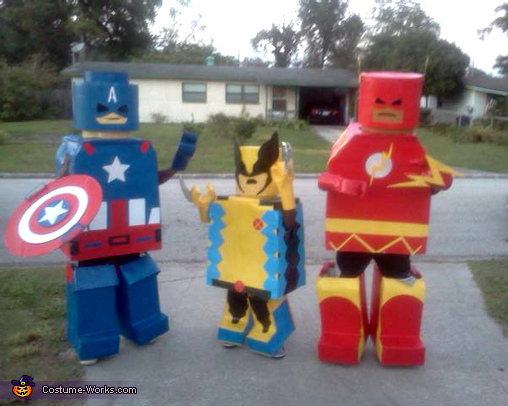 LEGO Superheroes Costume
More views:
(click to enlarge)
A word from Jasmin, the 'LEGO Superheroes' costume creator:
My costume inspiratiion came from going to legoland in Orlando Fl. with my 7yr old. I knew it was going to be a challenge but it was worth it and fun.
Here's how.
large cardboard boxes for torsos, medium boxes for legs and round hat boxes and styrofoam circles for the heads.
Cut out face patterns traced to the head.
Glue mesh piece inside head for eyes and mouth.
Glue color posterboard to costume boxes.
design all props of character from cardboard, glue, posterboard.
Hands are 3 circle styrofoam disc, cardboard tubing and popsicle sticks glued inside to hold.

That's the end! Not so bad ha? Alot of trips to craft store. It was 1 mo. Of dedication, and approx. $100 in materials. Hope you like them.