Kevin from UP Costume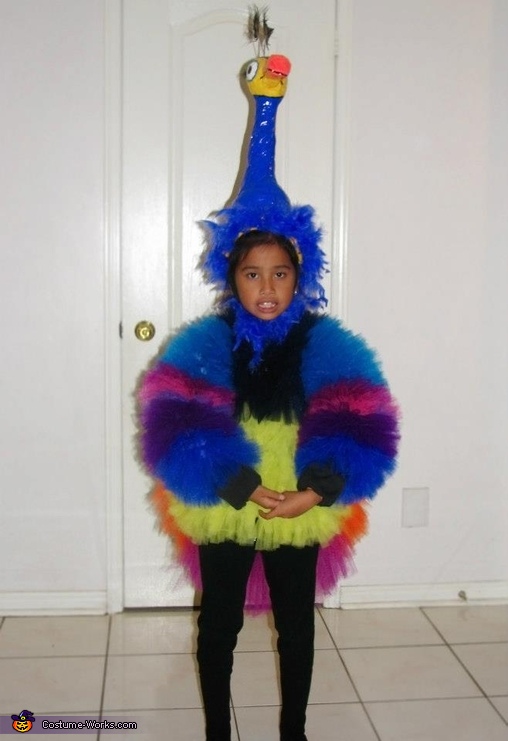 Kevin from UP
More views:
(click to enlarge)
A word from Liza, the 'Kevin from UP' costume creator:
My family loves Halloween and we love the movie UP, so that's the theme we decided on! We each picked our own characters and ran with it!
My daughter wanted to "Kevin" the bird. This costume was challenging. I started with the Headpiece: Paper mache mold (which took days to shape and dry), once dry I attached peacock feathers to top of head, hand painted, added shellac clear coat (to protect from rain), sewed felt fabric to inside for comfort and warmth and added feather detail to base of hat/headpiece (purchased peacock feathers and feather boa at local dollar store). Body: Took an old zipper front sweater and sewed (what seemed like hundreds) of strips of tulle in different colours to cover the entire body and sleeves of the sweater. I cut strips ranging from 2 inches to 6 inches (2 inches at top to 6 inches at bottom) to create desired shape/effect (sewed down centre of each strip, gather, then sewed to sweater - body: unzip and open sweater, right side up, sew straight line pattern from one zipper end to the other - arms: sew in circular pattern all around from shoulder top to wrist cuff). Bottom: plain black leggings and black socks which she already had.
Luckily paper mache head piece isn't heavy!
She loves it!