Jockey and his Horse Costume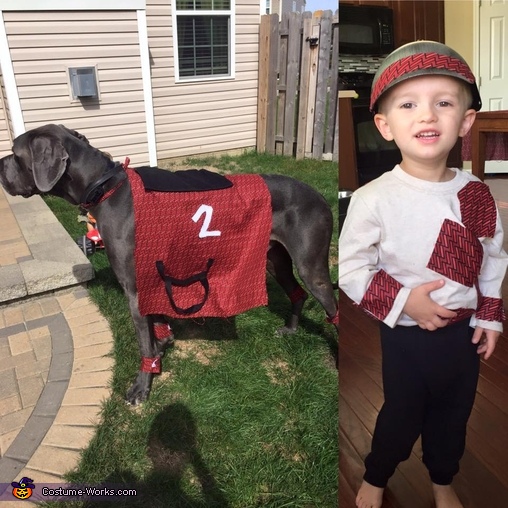 Jockey and his Horse Costume
A word from Janine, the 'Jockey and his Horse' costume creator:
James is my 3 year old son and Marvin is our 2 year old Great Dane. These two love being together, so why not on Halloween? I thought of this when so many people were telling me to make him a horse.

I made this costumes with the following materials:

-1 large "on sale" fabric piece (the red fabric)
-1 piece of white felt (for the "2")
- a pair of girl black sweatpants (tight enough for my boy)
- White shirt
- Tote bag and velcro
total - less than $20

I cannot sew, so I used fabric glue to stick the pieces on the shirt and the tote a the saddle. I used velcro for his "ankles" so it comes off easily and used a piece of the fabric to keep it around his neck like a collar.