Jellicle Cats Costume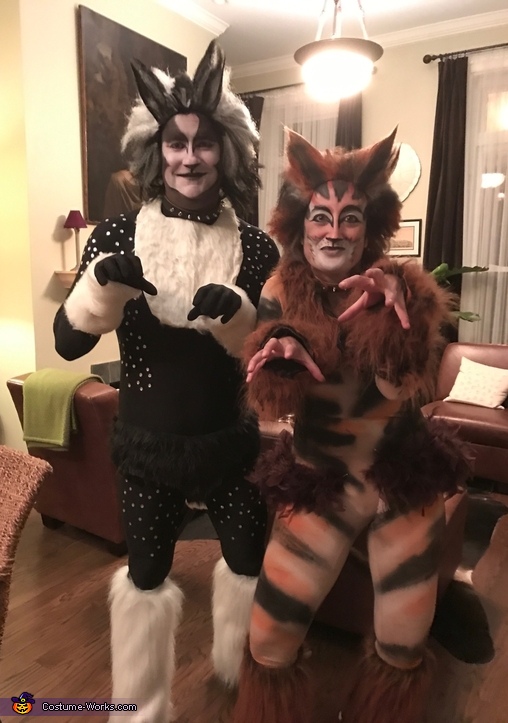 Jellicle Cats (Musical Cats)
More views:
(click to enlarge)
A word from Nadine, the 'Jellicle Cats' costume creator:
My boyfriend, Joe, (Mr. Mistofflelees in the photo) is a huge "Cats" fan. I absolutely love the animals cats (that's my cat, Dignan, in the photo). So it's kind of a no-brainer that we would merge the two worlds. Jellicle cats rule!

We worked so hard on these costumes so it felt great to be appreciated when went out both Friday and Saturday night before Halloween. People kept rushing up to us and asking "Are you from CATS" It was awesome. One girl started crying because she said it was her favorite musical. A few cars honked at us as we were walking down the street. We stayed in character the whole night, pretending to lick our paws and then clean behind our ears the way cats do. We also bellied up to the bar and asked for a saucer of milk. They served us White Russians instead. How ya like us meow?

This was a huge labor of love for us both. We've been dating for almost a year and this was our first Halloween together, so it was pretty special to be able to share it this way. Both of us are huge Halloween freaks, so we've definitely met our match. Joe is usually such a man's man so the fact that he wore spandex for me and shaved his goatee for the evening really meant a lot to me. We've definitely met our match! Living in the meow!