IN-N-OUT Costume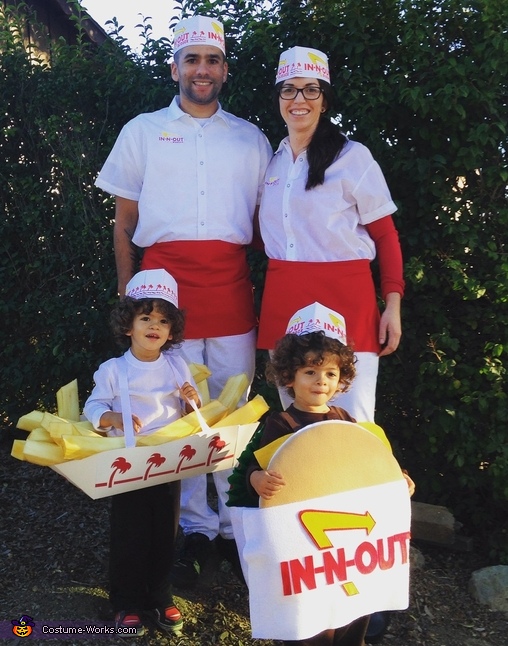 IN-N-OUT Costume
More views:
(click to enlarge)
A word from Stephanie, the 'In-N-Out Family' costume creator:
This is our completely homemade family costumes, except for the In-n-out hats! We have 2 1/2-year-old twin boys, so I wanted to do a core Nading costume for both of them, I decided on a hamburger and fries, because I love food! So I thought being a specific brand would be more fun. We are huge I-n-out fans, and I love their logo design. I got most of my ideas just by looking at pictures of the actual food and packaging, and wandering the craft store to find things to use for it .
I mostly used different colored felt, cardboard and hot glue for the hamburger. The fry box is made from posterboard and the fries are cut up foam that I painted with a golden yellow for more texture. Our worker costumes were basically finding white clothes, red material for the aprons and giant bobby pins to hold the back.
I was very happy with the end result, seeing as I started the project one week before! We had so much fun, and our boys did so good in their slightly awkward to walk in costumes!