Homemade Sushi Costumes
In Sherry's words:

My son wanted to be SUSHI a few years ago after leaving our town Halloween Carnival. He wanted a costume that would turn heads. I made him a SUSHI costume out of the foam they use for cushions, packing peanuts, and vinyl around the outside for the seaweed.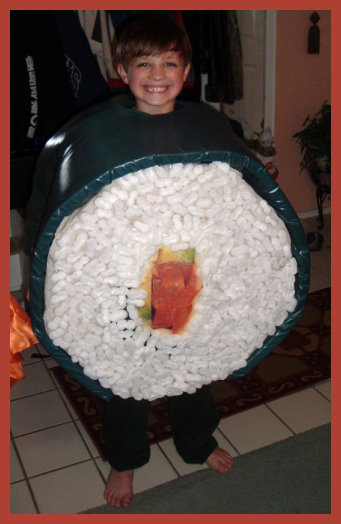 The inside is a photo of a real piece of sushi that I put on tshirt iron on material and ironed onto a light green material to cover the foam. It took quite a bit of work but he was thrilled with it!
I thought this a VERY original idea!

Wonderful, Sherry!
Thanks for sharing your costume Ü

View other original Homemade Costumes:
If you don't have the time or the inclination to MAKE a costume this year. If you've thought about it, but your heart, for whatever reason, JUST isn't in it... You can probably purchase a costume of the type you were planning to make... and maybe even for about the same as you might spend on the materials to MAKE a costume. On the other hand, you may look around and spot a Costume that changes your Costume plans completely Ü.

Back to Homemade Halloween Costumes Main Page