Homemade Robot Costumes
In Bob's Words:

My Costume, Rusty Robot has cardboard, duct tape, tons of paint, and special items. Hard to see but there are lights in panels front and rear.
Rusty Robot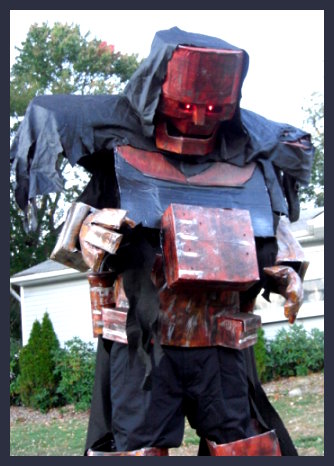 The eyes are red christmas lights carrying two 9 volt square batteries and on my belt I have two storage boxes and two built in drink cups... with tubing that goes to my mouth so I can drink with out removing the head piece... a little captain thank you...lol
Friend Bob didn't have very much to add in the way of instructions for his Robot Costume. HOWVER! I think he was likely tired from all of the costumes he made for his wife and children! You are a good man Bob... especially handy at Halloween time! Ü Ü

View other Homemade Robot Costumes:
If you don't have the time or the inclination to MAKE a costume this year. If you've thought about it, but your heart, for whatever reason, JUST isn't in it... You can probably purchase a costume of the type you were planning to make...and maybe even for about the same as you might spend on the materials to MAKE a costume. On the other hand, you may look around and spot a Costume that changes your Costume plans completely Ü.

Back to Homemade Halloween Costumes Main Page