Homemade Hatching Chick Costume
In Aiden's Mom's words:

This year we decided to make my three year old a chick hatching from an egg for Halloween. I do not remember where I came up with the idea, but it appealed to me, so I had to find a way to make an eggshell costume! That is how I came upon your website. I used the instructions for your Easter Egg, (listed under "Homemade Easter Egg Costume" on the "Homemade Halloween Costumes" page), and modified them to fit my needs.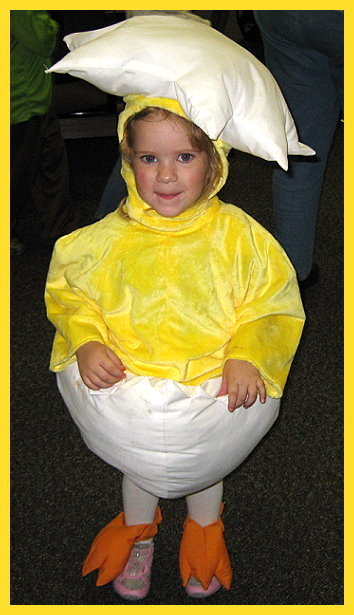 We just cut out the ovals like you said, and instead of having them go all the way up, cut it about halfway with jagged edges. We also simply sewed up the sides, and left the bottom open for ease of movement. As for how we kept it up... I made "suspenders". They were just long strips of muslin that I attached to the inside of the egg. I made 4 suspenders, 2 for the front, 2 for the back, and when I put the costume on her I just tied them over her shoulder to keep it all up. That way I didn't have to bother with trying to "fit" them to her (three year olds are rarely cooperative hehe). I could just tie and go! The yellow chick shirt went over the suspenders to hide them. It worked great!
Much Thanks to Aiden's Mom
for the BEAUTIFUL lil chicky!!! Ü


View other creative Homemade Costumes:
If you don't have the time or the inclination to MAKE a costume this year. If you've thought about it, but your heart, for whatever reason, JUST isn't in it... You can probably purchase a costume of the type you were planning to make...and maybe even for about the same as you might spend on the materials to MAKE a costume. On the other hand, you may look around and spot a Costume that changes your Costume plans completely Ü.

Back to Homemade Halloween Costumes Main Page