Homemade Costume: Batman with BatCycle
In Bobs words:

(Below) in costume... along with the cardboard, duct tape, utility belt I made him to give it life. Velcro on it for him to be more inter-active My 4 yr old Jacob is Batman.
The bat cycle (below) is lots of cardboard and duct tape. I tried to keep it light weight for him. He loves it.
The tires are made with bubble-wrap to give it tread on tires and keep it light.
The steering turns and the lights work.
Below are some pictures of the Batcycle during Bobs sculpting process. I don't know if there is a way to give exact building "instructions" for something like this. Bob figures it out as he goes (as does any artist I think Ü). Perhaps the pictures below will give you an idea of what direction one could go in to get-er-done.
Batcycle creation phases:
Below, a photo of what the REAR of the Batcycle looks like:
And Below, the finished project Batman and his Batcycle: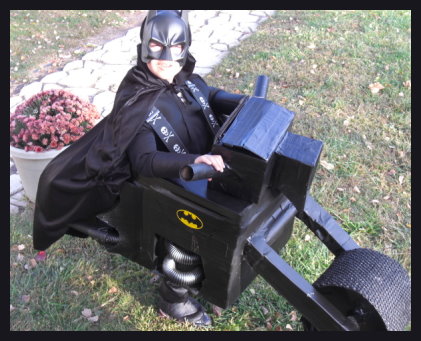 You can find other great costumes created by Bob in Costume Picture Gallery and in Halloween Costume Contest section of my site.

Thanks again Bob! Ü

More costumes created by Bob:

If you have labored long and hard on the Batcycle and you've decided that it MIGHT just be easier to PURCHASE Batman's attire (and I'm NOT trying to suggest that you do "buy" a Batman Costume... only to suggest that you DO....have OPTIONS!

Back to Homemade Halloween Costumes Main Page