Helghast Army Fallschirmjager Costume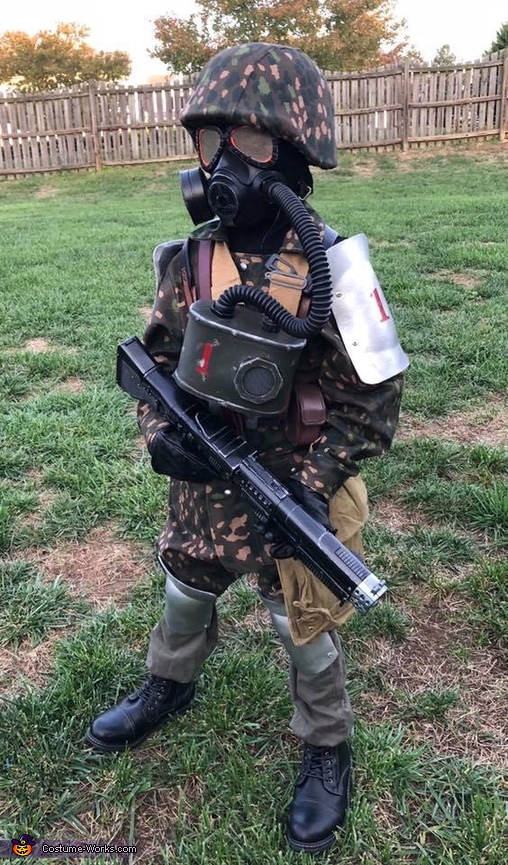 Christopher's Helghast Army Fallschirmjager Halloween 2018
More views:
(click to enlarge)
A word from Chris, the 'Helghast Army Fallschirmjager' costume creator:
So for this costume build we went dieselpunk. The concept was derived from searching the internet for dieselpunk soldiers. After he found a concept picture he liked, we gave it a backstory and the foundation of the Helghast Army from the video game Killzone. We have not played the game, but it gave the idea for our own version of a Corporate Imperial Paratrooper, thus the name Fallschirmjager. He is not a good guy by any means. These troopers are here to occupy the earth and take down the Interplanetary Alliance.

The foundation of this was a store bought airsoft helmet and gasmask. The eyes of the mask have been altered by using EL wire and a painted screen to add the glowing effect. The camouflage smock and helmet cover were hand made using reproduction Dot 44 German camouflage. The pattern for the smock was done using pictures of actual WW II German paratrooper smocks and sized by using one of my boys every day jackets. The helmet cover pattern was made by covering the helmet with aluminum foil and tape. The lines were drawn on stitch points and cut out. The hard part for me is that I had not operated a sewing machine since Home Economics in high school in 1988.

The field harness is made from actual leather and pictures of WW II German field gear were used as a guide, and all of the pouches are completely functional. The armor is made from EVA foam that has been cut, heated shaped and painted. The chest canister is also EVA foam. The canister houses the control module for the eyes. Also, mounted in the canister is a Bluetooth speaker. The speaker plays trooper sounds that I downloaded on a playlist and looped to play through his phone. The hose comes off of and old SCUBA BCD and various pipe fittings are used for connections and finishing. After painting, a little weathering was incorporated to most areas
The pants are wrangler cargo pants, the boots I found on Amazon on a lightening deal for $15. The gloves are Star Wars Kids costume gloves and the blaster is a Star Wars Nerf blaster that has been painted.

The reaction on Halloween was fantastic. People were overwhelmed with the details of the glowing eyes and sound. The added details of functional pockets and pouches were also noticed. Also, the fact that even the candy bag was incorporated into the costume meant that he could stay in character the entire time also made the times spent in costume a cosplay event and he pulls off his character well.