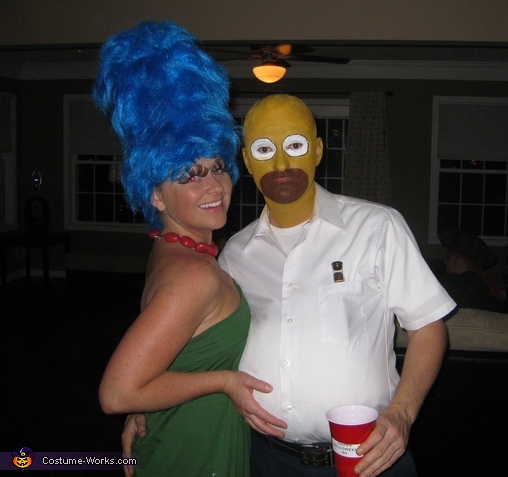 The Simpsons - Marge and Homer
A word from Adam, the 'The Simpsons' costume creator:
We were struggling to find a fun couples costume that we make ourselves and had a great idea of The Simpsons. We used face paint, a bald cap, wigs, fake eyelashes, etc. The costumes came out great and WON "Best Costume" at the party.. Most of the outfit for Marge and Homer came from Goodwill, we were shocked when we found the red necklace there. My wife had to do some pretty extensive work on the wig, but it turned out perfect. The bald cap didn't feel to good when taking it off since it was glued to the back of my neck. We even taped two black wires to the top of my had to represent the two hairs Homer has. I wasn't that fat either, that was the help of a pillow. The face paint came off pretty easy, but didn't actually take it off until the next day, as we partied pretty hard and didn't change until we woke up!!! DOH!!!!