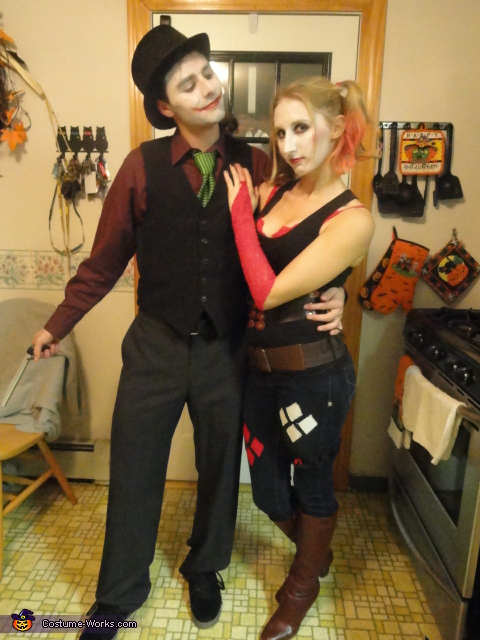 Joker & Harley Quinn Costumes
More views:
(click to enlarge)
A word from Sonya, the 'Joker & Harley Quinn' costume creator:
Hey Everyone!
My name is Sonya & the man in my photos is my bf Johnny. Last year, we decided to go as Joker & Harley Quinn (villains from Batman.) These two are a strange couple so we thought it'd be a perfect Halloween Party costume idea! At the time, the new Batman video game came out. Johnny bought it & played it, & i absolutely loved Harley Quinn's outfit in the new game so that's when we decided that's what we wanted to achieve. Costumes closest to the game. I'm an actress, so I love to dress up! I have a huge chest full of costumes & antique clothes so I can whip out a costume in no time! Most of the stuff I'm wearing, I already had. I made the arm bands for myself & I sewed the diamonds onto a pair of black skinny jeans (both from old t-shirts.) Most of Johnny's stuff is from thrift stores like Savers & the Salvation Army. Those are perfect places to look. Just be prepared to spend a lot of time looking. It was actually really easy to get everything together. And people knew exactly who we were! It was awesome! Got a lot of compliments too. Hope you find out couple's costume as awesome as we did. Thanks for looking/voting & have a Happy Halloween!