Gumby and Minga Costume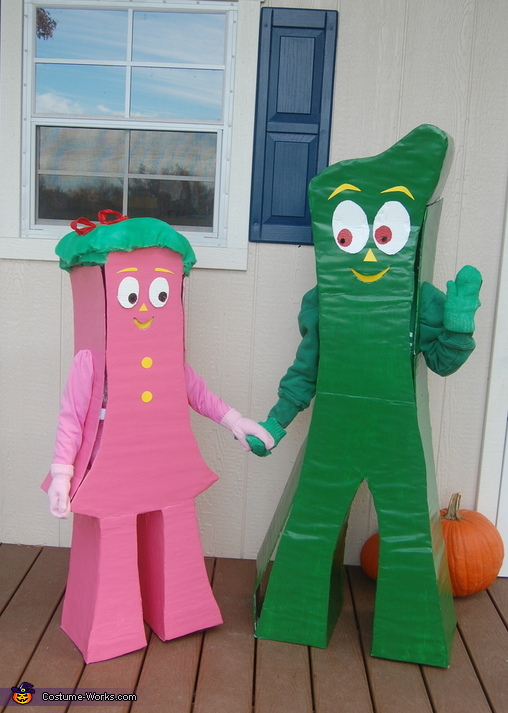 Happy Halloween from Gumby and Minga
More views:
(click to enlarge)
A word from Anne, the 'Gumby and Minga' costume creator:
As kids, we all like to think of meeting our favorite TV legends, but what could be better than transforming into them? Our 2019 costumes did just that – they aptly disguised my son and daughter as Gumby and his little sister Minga. Both kids had been watching reruns of the Gumby Show on YouTube and treasure their toy figurines of the lovable clay characters. When the time came to decide on our Halloween costumes, the choice was obvious (at least to the kids): We had to find a way to bring the clumsy clay figures to life.
I enlisted my colleagues at work to collect the largest cardboard boxes possible, and equipped myself with countless glue sticks, duct tape, poster boards, and paint. Little did I know how long the journey would be from tracing two kids' outlines on cardboard to the cheery creatures we ended up with!
After cutting out front and back outlines for both costumes, the kids' heads and feet needed to be measured for width, and paper towel rolls were tailored and inserted at the top of the head. Cardboard also served as the siding around the heads and Minga's legs, and we created cardboard "doors" that would later be attached with Velcro for access. All cardboard surfaces were covered with poster board (to give that extra sheen!), and then painted. I should note that I was using a 15-year old glue gun and only realized in the homestretch that they now make glue guns that don't destroy hands! Minga's hair was created using several strips of spray-painted quilt batting and topped off with a red signature bow. Eyes were cut out of cardboard, painted, and attached separately with a glue gun, not forgetting to leave small peep holes. The mouth, which was cut out and covered from the inside with yellow paper flaps, was our favorite feature: Inside each costume behind the mouth are hidden zipper bags, which catch the Halloween candy as Gumby and Minga "eat" it (this detail drew some serious expressions of delight among the candy-givers)!
We were very excited once the costumes were ready, rushing off to our first trunk-or-treat event while the paint was still tacky. This is when we ran into our first problem: Turns out our daughter is claustrophobic and would not stay in the costume for more than a few minutes! The other problem was walking, but with a little practice, my son figured out a side-swipe step that worked and gave the costume some extra flair (although our pace resembled that of a snail!).
Trick or treating was a great experience for us. Many folks were nostalgic, remembering Gumby from their childhood, and asked to have pictures taken with our characters. Watching the younger crowd's reaction was fun, too, as most 2-year-olds thought that the creatures were real. While we received more candy than we could have wished for, the positive comments and feedback for our costumes were priceless, and well worth the blood, sweat, and second-degree glue gun burns!