Guinea Pig Costume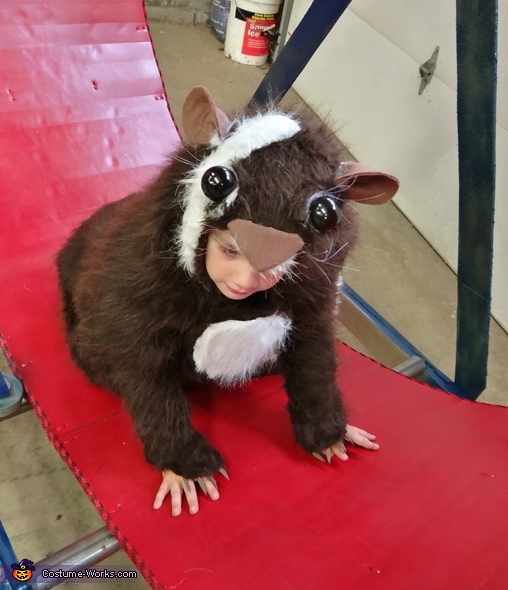 Chippy on the go!
More views:
(click to enlarge)
A word from Nicole, the 'Guinea Pig' costume creator:
My son, Joshy, is wearing his homemade "Chippy" the guinea pig costume. It is modeled after his favorite pet in the whole world, his guinea pig, Chippy! Now he can get on his own exercise wheel, just like his guinea pig, and be "one" with "The Chipster"!
He will race his way into your heart as he goes round and round on his home-made hamster wheel and guinea pig costume.
The 6 foot exercise wheel,constructed out of pvc pipe and cardboard, helped make Joshy's dream come true. He can climb and crawl to his heart's content and when he gets thirsty climb off and get a drink from it's water bottle.
The water bottle was made from a two liter soda bottle with braided brake line used for the dispenser tip.
The guinea pig costume was constructed using colored fur to match Chippy's markings. I used a sewing machine to make the costume and secured it with velcro and safety pins. There are ping pong ball eyes, felt ears and nose, and fishing line whiskers.
The exercise wheel framework was 1/2 inch pvc sections joined together to create the ladder-like wheel, then cardboard was ziptied to the framework on the inside, then blue board insulation was added between the framework to fill the voids, then cardboard was glued to the outside of the wheel. Rope was glued to the outer joint to cover the seam. Then spray paint was applied to the whole wheel.
The roller assembly was made from assembly line rollers and two by four framing, then casters were added. This creates the illusion that the wheel is spinning on the center support, but makes the wheel functional. Then the center beam and assembly to look like it was supporting the wheel was made out of pvc and cardboard, and secured with hot glue.* main obstacle of the wheel was keeping the wheel's round shape, wire supports were added, but they did not stay taut so they were removed. Also guide wheels were added to keep the exercise wheel centered.
There was about 30 dollars in pvc used, 5 dollars in hot glue, and 16 dollars in fur...the rest of the items we found around the house or were given for free...but the end result was a priceless memory of being able to bond with his pet guinea pig, Chippy, on a whole new level!