The Good Humor Man Costume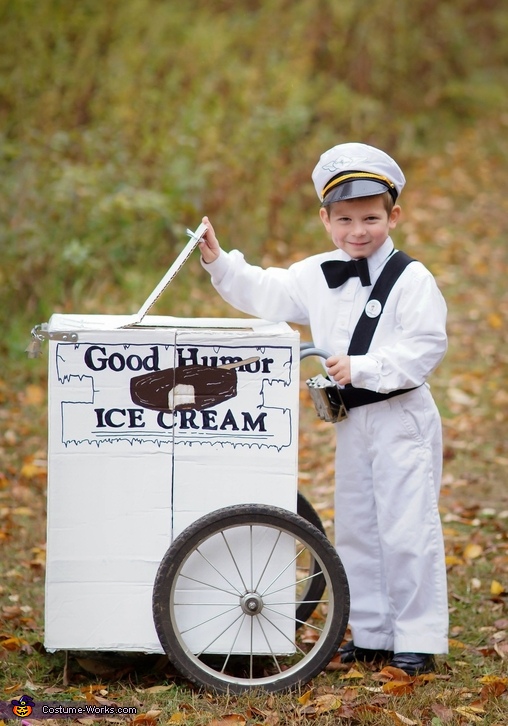 The Good Humor Man
More views:
(click to enlarge)
A word from Lindsay, the 'Good Humor Man' costume creator:
This costume was inspired by the fact that we live just down the street from our real-life neighborhood ice cream man. My children are endlessly fascinated by him and they squeal with delight when the hear the happy music of his truck.

Since I can't sew, I have to rely upon my trusty hot glue gun to get me through my Halloween preparations. In my experience, there is little that cannot be accomplished with some felt, velcro, and hot glue!!

Thrift store white pants and shirt were the base of my son's uniform. I then used black felt and velcro to fashion his bow tie and belt/shoulder strap. His finishing touches consisted of a vintage coin changer on his belt, and a white captain's hat with a Good Humor logo glued to it.

To be honest, I was initially feeling only "ho-hum" about this costume idea. I was lying in bed one night wracking my brain for ideas on how to jazz things up a little bit, when I suddenly had a vision of the broken down old lawnmower parked behind our garage. "Wheels!!", I thought. "We can make a pushcart!" So, the next day found me in the backyard disassembling the old lawnmower.
Once I had the wheels and axle off, I had only to find a box that was about the same width as the axle, and the pushcart started to take shape. A little paint, a few odds and ends of hardware, and yes, more hot glue, and we had ourselves a pretty official-looking Good Humor ice cream pushcart.

We then put our handsome little ice cream man at the helm of his pushcart and voila!: A fun, nostalgic costume that is the talk of the neighborhood!