Glow Stick Figure Costume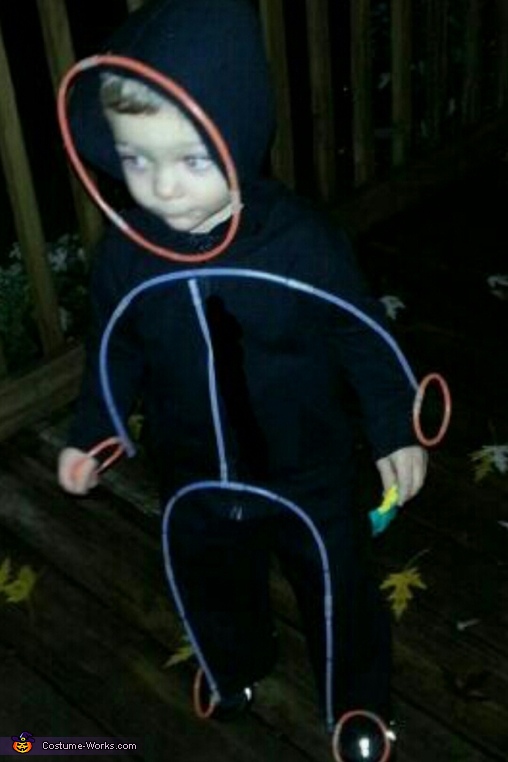 Glow Stick Figure Costume
More views:
(click to enlarge)
A word from Chesney, the 'Glow Stick Figure' costume creator:
My 23 month old son was a "(Glow) Stick Figure" this year (2013). I couldn't find a store bought costume that his dad (wanted nothing "cutesy", "Halloween isn't suppose to be cute.") and I (wanted nothing gruesome) could agree on. The day before Halloween, I went to Target, bought a thick and warm sweat suit set (pants and hooded zip-up jacket), some black face paint (ended up not using) and about a dozen tubes of glow-necklaces (every tube had 3 of each color; pink, orange, yellow, green and blue). I figured it shouldn't take all but an hour (2 MAX) to put it together...
I laid the pants and jacket out flat and sat some glow necklaces on to make a template so I could figure out how and where to attach them to the suit. I marked the spots where I wanted to put loops for them to slide thru with a white eyeliner pencil (that's what I had on hand).
I started out putting the plastic connectors (that come with the glow necklaces) onto the pant legs with a sewing needle and thread... Two hours later I was no where near half-way done. I thought "okay, how can I get this done quicker..." I needed something sturdy enough to hold the glow sticks in place without making several loops for one point, something to tie or wrap around it... "Light Bulb!" (Gru). Twist ties that come with trash can liners. I had my hubby peeling the paper off and I was trying to sew them on with the needle. Still, this was taking too long... brighter "Light Bulb!". I have some dark green floral wire! It's thick and sturdy enough to poke thru the fabric itself, without the needle! Once I began this method it was a matter of minutes (ok like 45 or so), and I was ready to dress my little guy in the suit. Once I had him dressed, I still had to break all the glow sticks (to make them glow) and slip them thru all the wire loops. Should be about a 10 minute task, unless your model is an antsy 2 year old. Then it's about 20 minutes. It's now 6:30! Trunk or Treat at the elementary school in town would be over at 7. Luckily it wasn't too bad out and we went to about 5 houses on our street (he's not too big on candy and sweets anyway, a >+), strolled back home and hopped in the car to swing by Sonic for their Halloween corn dog special, and were back home by 7:30! The evening was such a whirlwind, I didn't actually get a chance to just sit back and get a good look at him. Luckily Granny stopped over and came along. She took more videos than pictures but did manage to snap a couple still-shots. The total cost of the costume was about $20. Being this size (2T), it only took 12 glow-necklaces (24 if you count the ones I used as a template). I think we will try this again one year, now that we know what works and what doesn't. Maybe we'll even spring for some battery operated string lights; the ones that have the option to be in steady/solid mode or strobe mode. Then we'll put them on strobe mode and he can be a "Flasher"! Ha!