Ghost Riders Costume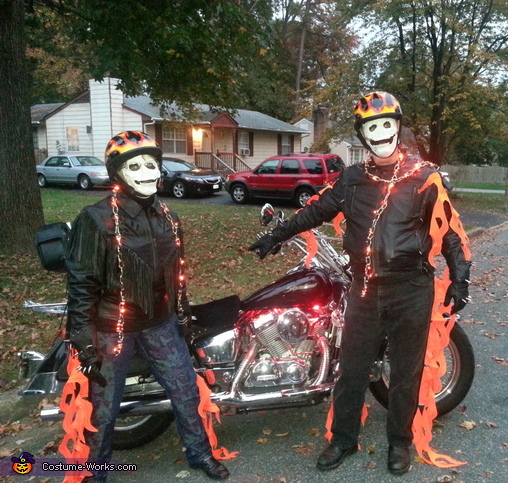 Ghost Riders ready to ride
More views:
(click to enlarge)
A word from Sandra, the 'Ghost Riders' costume creator:
Sandra and David are wearing the costumes designed by David Aldrich. The idea came from the movie Ghost Riders.
David ordered flaming helmets, spikes to put into his old motorcycle jacket and gloves for both of us. He bought orange fabric, cut out a template of a flame, and cut the fabric using the templates. He then sewed all of the flames onto his old pair of jeans and one of Sandra's along with sewing them onto the sleeves of his jacket. He added links of chain to his motorcycle along with the Lizard Lights. He purchased two chains and wove copper wire into the chains then added lights tying each individually to make the "chain of fire" that the Ghost Rider used. These are battery operated. We added the skeleton masks which are glued on as two separate pieces to allow the jaw to work and used black makeup under the masks to give the ghost effect.