And the winner is........

Congratulations Mattie and Matties human , Tobi.
You are the "Judges Pick" in this contest.
~~~~~~~~~~~~~~~~~~~~~~~~~~~~~~~~~~~~
Prize money will be sent out the first week in December.
(I am waiting for MY payday Ü)
~
Many thanks to ALL who have entered in this contest. NEXT YEAR I shall be sure that the "Pet" portion of the Costume Contest is planned for and THUS it will be able to cover 1st through 3rd place winners. I simply do not have the funds to do it this year and hopefully you all understand ..and WILL come back next year. Come and enter again in this OR in my "Human" Costume Contest. I will be looking forward to seeing you then. Ü

It has once again been requested by my patrons that I have a PET Costume Contest for Halloween. BECAUSE I am here to make all of your COSTUMING dreams come true...How can I NOT add this page for you?
NOW! What I need from YOU lovely people out there is MORE PET CONTESTANTS! SO! Dress up your little ( or BIG) cuties, snap a photo, and send it to me,
Coletta@Costume-Works.com
, labeled "Contest" in the subject line. (I should be able to figure out whether it is for the HUMAN or PET page/category all on my own Ü). The judging will be in mid-November so if you or your pet dress only for Halloween-proper..you have plenty of time to get those photos in also.
Here are the entries so far:
Contestants 1

Here we have Maximus and Dantes
Thing 1 and Thing 2
from Cat in the Hat fame
sent to us by Shayna in Texas
Thank you Shayna!
~~~~~~~~~~~~~~~~~~~~~~~~~~~~~~~~~~~~~~~~~~~~~

Contestant 2
The only info I have on this pooch is that he is a liscensed therapy dog
who does a lot of dressing up as entertainment for his humans
and that he takes it all in stride. This, appearantly, is his
Halloween Gangsta Costume Ü
"Thank you" to the sender!
(whomever you are Ü)
~~~~~~~~~~~~~~~~~~~~~~~~~~~~~~~~~~~~~~~~~~~~

Contestant 3
This is Bella and she came with a lovely note attached that I would like to share with you all. This is in no way intended to be a political statement ..although I DO have a son in the Army...so maybe I appreciate this note more than some might.
"Hi, my name is Bella. I'm showing my Howl-O-Ween spirit by wearing my cute U.S. navy costume. I wanted to show my support for our troops this year. I have tremendous respect for you because you are defending us and fighting against an enemy who clearly has hatred in their hearts. Please come home safely and know that people may oppose the war, but they have always and will always support you and what you have done for your country. Happy Halloween!!!"
Many Thanks to Bella and Bella's Human. Ü
~~~~~~~~~~~~~~~~~~~~~~~~~~~~~~~~~~~~~~~~~~

Contestant 4
Here is Julia as a Halloween Fairy.
You will see Julia's human, Traci, several times on my "Pictures" page.
Ü Ü
Thank you Traci!
~~~~~~~~~~~~~~~~~~~~~~~~~~~~~~~~~~~~~~~~~~~~~~~~~
Contestant 5
Above is return contestant Mattie, a Great Dane.
Here is is a georgous White Horse pulling, what other than,
Cinderellas Magical Pumpkin Carriage.
Many thanks to Mattie's friends Tobi and Tobi's Grandmother
for sharing such a beautiful creation with us. Ü
~~~~~~~~~~~~~~~~~~~~~~~~~~~~~~~~~~~~~~~~~
Contestant 6
Here is Piper, A Golden Retriever pup .
Piper is dressed as a pretty little Golden Indian.
This Costume was also done by Tobi,
who is the owner of the Great Dane, Mattie.
(in the costume above)
Thanks again Tobi!
~~~~~~~~~~~~~~~~~~~~~~~~~~~~~~~~~~~~~~~~~~
Contestant 7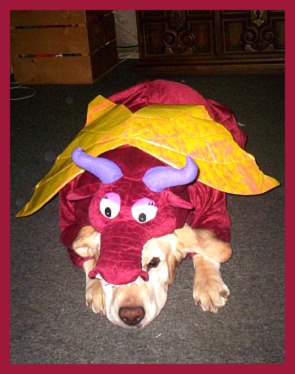 Above is a pooch named Cooper.
Cooper is a Red Dragon.
In this bottom pic you can even see his tail.
Thank you Gore!
(Gore also has entries in our "human" contest Ü)

~~~~~~~~~~~
Contestant 8
Above is Jada the Ninja
looking very proud and patient in a great Costume.

It looks like this Ninja has something to SAY! Ü

Thanks again Gore!
And good luck on all of your entries!

~~~~~~~~~~~~~~~~~~~~~~~~~~~~~~~~
Many thanks to all of the Humans belonging to these wonderful Beasties