Futurama - Fry and Bender Costumes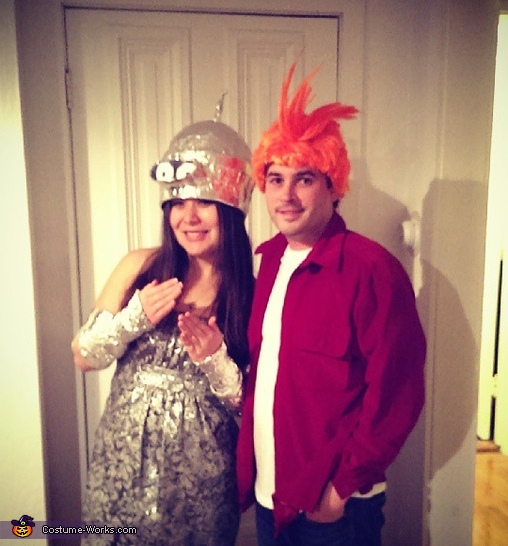 Easy and Cute Bender and Fry
A word from Melanie, the 'Fry and Bender' costume creator:
WHO IS WEARING WHAT:
GIRL: Bender the robot from Futurama
BOY: Fry from Futurama
IDEA:
We love Futurama and wanted to do something creative, easy, cute, and wearable.
HOW TO:
Fry - Red jacket, jeans, white shirt, and orange wig to be styled your way. My bf also printed out a slurm logo and put it on a coke can, and a pizza delivery box logo for Planet Express (not pictured).
Bender - I had a cute silver dress. I made arms by duct taping my leggings and arm warmers.
For the helmet I used a little planter and put it in the top of trash can (it was rounded) and began duct taping. From there I duct taped everything and cut a toilet paper roll to make the eye panel. I printed out eyes on the printer and put them in the eye panel. It didn't take more than 1 hour for either of us.