Three Good Fairies: Flora, Fauna and Merryweather Costume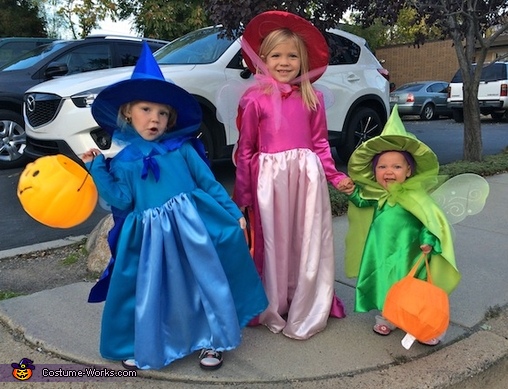 Flora, Fauna and Merryweather take stage!
More views:
(click to enlarge)
A word from Corie, the 'Flora, Fauna and Merryweather' costume creator:
Three girls, three very girly-girls, are in need of a costume. Instead of giving in to all three girls being Frozen Elsa (no offense) I set out to search for a creative and coordinating costume idea that will allow the girls and myself to have the fun we all deserve on Halloween!
Many runner-ups and quite worthy opponents fell into my lap this year as I googled and searched for ideas, but none that sat just right as this idea did! My three girls would just LOVE the idea of being fairies and even the fairies from sleeping beauty!
So we set out to the fabric store. Hours later, we arrived home with a gigantic stack of beautiful satin colors to be beautifully arranged in what will later be their Halloween costumes! Days turned into weeks as I saw that daunting task sit in the corner of my pantry just waiting for me to start the sewing, and I dreading the idea of trying to attempt while tackling my 1,3 and 6 six old in between all of my other tasks and responsibilities.
Finally, my curiosity got the best of me; when I sat down to sew my 4 year olds, Merryweather costume. I was surprised at how well the costume seemed to come together and before I knew it, I had finished the first one! The other two seemed to come together even easier than the one before- I should mention I did not have a clue what I was doing- let alone a pattern of any sort! Next came the capes, and the hats and the wings! I wings were by far the most difficult and tedious part! Nonetheless, everything came together perfectly! As long as no one get close enough to see the imperfections, and loose seams, or the complete chaos and mess of the inside of the dress!....I am proud to say the girls have come together quite well!
Tonight, we went for our first go-around at a small city trick-or-treating event, and boy were they a hit! My 13 month old, Fauna, even got to the point where she just walked around waving, as she loved the limelight and attention! Almost instantly people knew they were the "fairies from sleeping beauty" and we got comment after compliment about how wonderful of an idea this was. Many people came up to us to take their picture, and comment on how Sleeping beauty is their favorite Disney movie, and it was so sweet to be able to see the girls recreate such a fond memory! It was even more pleasing to me to be able to see my three beautiful girls enjoying their evening on cloud nine in their fun, beautiful, dainty, fairy costumes!
My only fear now is......How on earth can I top this for Next year?!!?!?!?