Family Beetlejuice Costume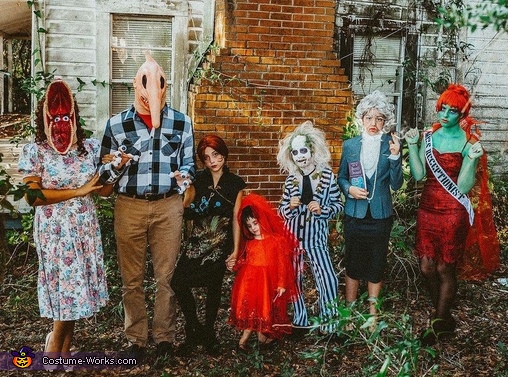 It's Showtime!
More views:
(click to enlarge)
A word from Brooke, the 'Family Beetlejuice' costume creator:
Mom and dad are Adam and Barbara, with custom masks and clothes from the thrift store! Daughter is Delia Deetz, with red wig, Delia inspired dress from Amazon! It was really difficult to get the wig hair to stick to her skin for the look, used latex glue for that. Other daughter was Lydia, cute red dress from Amazon. Purchased bangs and cut them to match the look. Son was Beetlejuice, preface costume, crazy inventor wig, I painted it with hair spray dye, and used real moss glued on to wig, face and clothes. My daughter in the costume of Juno was a business suit, neck smoke added as effect. Old lady wig from Amazon. Dead receptionist was my eldest daughter, permafrost costume, skin paint in teal and green mixed. Red wig from Amazon!