Facebook Costume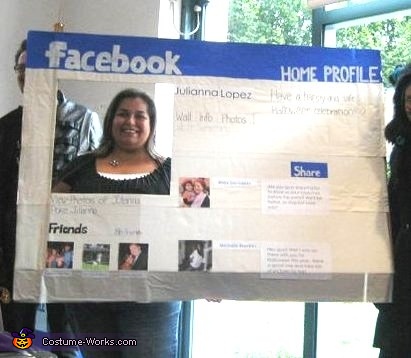 My Facebook Halloween Costume
More views:
(click to enlarge)
A word from Juli, the 'Facebook' costume creator:
I was looking for something to maintain my Most Creative title after the previous year's Otco-Mom costume.
I finally decided to do Facebook after giving it some thought. I found a nice large, flat moving box. We covered it with white butcher paper. We cut a hole for my profile picture spot. :-) I painted the famous blue stripe along the top and enlarged some of my friends profile pictures to add to my "wall". I used a large font to create Halloween inspired comments from my friends and glued them onto the wall.
On the backside, I affixed a strap to go around my neck to help support that big ol' cardboard wall. Finally, I also added a few TP rolls to the backside for handles to hold the wall steady.
I kept my title that year for Most Creative costume. :-)