Facebook Family Group Costume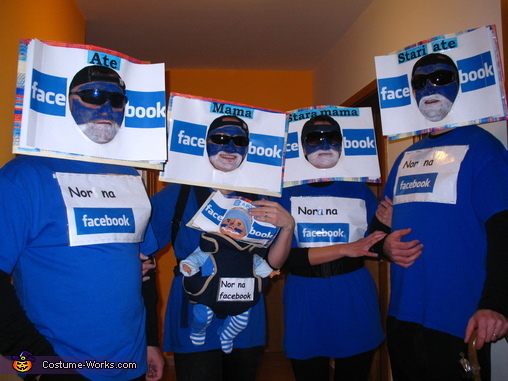 From left to right: Father facebook, Mother facebook, Baby facebook, Grandmother facebook, Grandfather facebook
More views:
(click to enlarge)
A word from Darja, the 'Facebook Family' costume creator:
Each year there's a dance for masquerade organized in a village nearby. Two days before this dance started, me and my friends decided to atend it. We didn't have a clue which costume to wear, so I started searching for an idea on the Internet and I found an excellent idea: facebook costume.
It was Friday and my friends were all at work so they didn't have time to help me with the facebook costume. But I was at home, on maternity leave, so I decided to make costumes for all four of us.
I developed an idea of facebook costume for a group, so I created "grandmother facebook", "grandfather facebook", "mother facebook", "father facebook" and a "baby facebook".
On each T-shirt we sewed on an inscription Crazy about Facebook.
With this costume I planned to show, that everybody in the world is crazy about Facebook – grandmothers, grandfathers, mothers, fathers and even newborn babys.
It was really fun, making a costume in a limited period of time – only one hour before masked ball started, we were still sewing the inscriptions "Crazy about Facebook" - even our men were sewing by hand – can you imagine? We were laughing at each other and even my mother in law commented, that it was a really good costume.
We also had to find blue T-shirts and blue clothes for our baby, colours for our faces and black belts. We also took a stick for a grandfather, because he had difficulties with walking :)
Everybody at masked ball were laughing at us, specially to our "baby facebook" who was also "Crazy about Facebook". They all commented, that our costume was really original and something special.
We won 2. place, but I think we should won the 1. place, because our costume was really special and creative. Nevertheless, we had such a great time at the masked ball and were very happy with a 2. reward also.
The funniest thing about our costume is, that me nor my friends even don't like Facebook, so in this way we made fun of the Facebook.
What you'll need:
12- to 15-ounce cereal box
glue stick
wrapping and white paper
marker
thin elastic
duct tape
baseball cap
How to make it:
Book cover: Cut off the top and bottom flaps and one narrow side of a 12- to 15-ounce cereal box so that you're left with three panels. Apply a glue stick all over the printed side of the cardboard, then cover it with wrapping paper that's an inch wider than the box on all sides.
Fold down the edges of the wrapping paper and glue them in place. Glue an 11- by 17-inch sheet of white paper on top.

Inside pages: Beginning at a short end, accordion-fold two sheets of 11- by 17-inch white paper. The folds should be 1 inch wide.
Glue an end flap of each of the folded sheets along a short edge of another 11- by 17-inch sheet, creating a table shape. Glue the bottom flaps of the accordioned sheets to the book cover leaving the center piece loose, as shown.

Face opening: Lay the book wrapping paper–side up and draw an oval face-opening in the center. Use a craft knife to cut through the cardboard and paper (an adult's job).

Neck strap: Attach a length of thin elastic with duct tape under the white paper, as shown.

Hat attachment: Cut off the bill of a baseball cap. Attach the front of the cap to the book by running a strip of duct tape down the front center of the cap onto the top edge of the book above the face opening, as shown.
Continue running the tape over the edge of the book cover, straight down under the paper, through the face opening, and into the inside center of the hat.

Finishing touches: Glue the center of the white book page to the cover, then use a marker to write "face book."