Evil Killer Clown Costume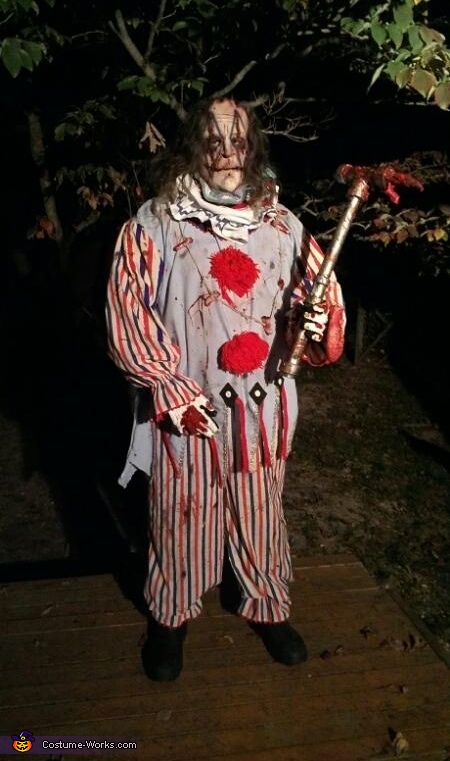 Evil Killer clown
More views:
(click to enlarge)
A word from Scot, the 'Evil Killer Clown' costume creator:
My name is Scot, and I am an Evil Killer Clown. I could never come up with any good halloween costume ideas until this year. This costume is mostly handmade, this is how I did it:
Step 1. I took bright colored material and pinned it to my clothes to cut out a pattern.
Step 2. Then sewed the material together creating my clown suit.
Step 3. I took several different style material and cut different size circles and cut a hole for my head to fit. Then took fishing line and a needle and sewed a wide stich and gathered it together and tied off.
Step 4. I dipped my fingers in fake blood and splattered on costume.
Step 5. Bought a cheap mask but added my own fake blood and then coated it with clear nail polish for a fresh bloody look.
Step 6. I bought a foam pipe and painted it with fake blood and added torn balloons dipped in fake blood as well as a fake chopped flesh mixture (mixture is elmer's glue, oatmeal, and fake blood.
That is it real simple took me two days to make and cost me about $20.00 HAPPY HALLOWEEN!!!!!