Evil Alien Robot Costume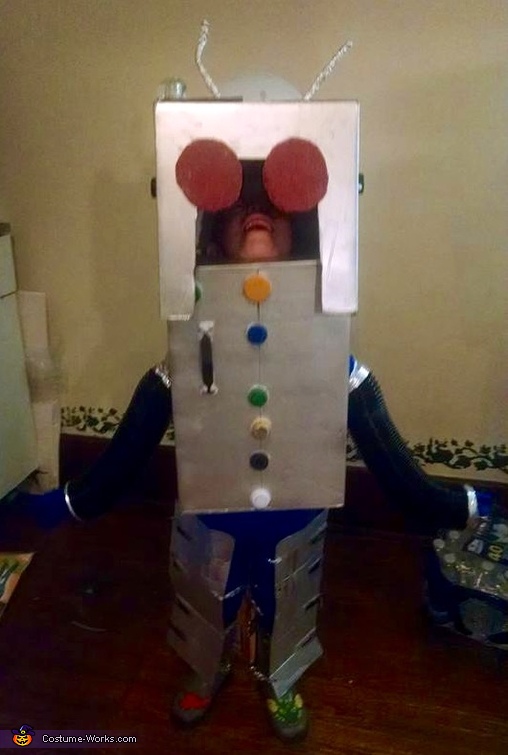 Evil Alien Robot Costume
More views:
(click to enlarge)
A word from Melissa, the 'Evil Alien Robot' costume creator:
This costume my 6 yr old son ,Billy came up with. First thing we did was to get 2 cardboard boxes,one for the head and one for the body. The body one we mostly kept in tack except for making a hole in each side for the arms. Then we cut a semi circle area on each end for the neck and waist area. After painting entire box silver,we added Velcro straps to top flaps to close in back. The head box was also painted silver then cut out face area (the size of this box fit perfect over the body box). For extras we added soda lids to body box for buttons and plastic handle. We also added black plastic hoses to arm holes with silver duck tape for arms. For head box we added cardboard circles painted red for eyes and a plastic piece with twisted tin foil coming through for antenae. Next for on the legs we cut 2 rectangle pieces for each leg. We attached 2 pieces of cardboard together with craft wire on one side then on other side attached Velcro straps ( to take on and off with), did this for both legs.these were also painted silver.
For wearing we first put on a morph suit to make costume more comfortable. Then added sliver boots to costume.