Elizabethan Ravers Couple's Costume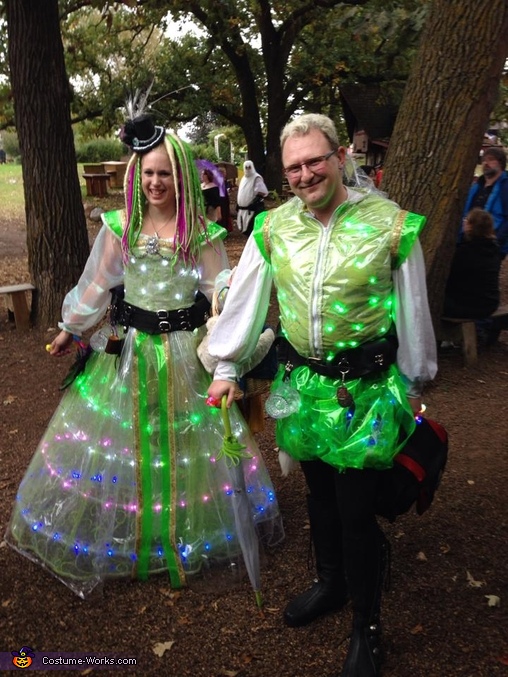 Couple 1
More views:
(click to enlarge)
A word from Ryn, the 'Elizabethan Ravers' costume creator:
My boyfriend and I are wearing the Elizabethan Raver attire. The idea came about from combining two of my favorite hobbies: Renaissance Festivals and EDM shows or "raves". I like to build things that light up as well!
I am actually wearing fuzzy leg warmers under my skirts as well as silver lame spanks and corset.
The costumes are made out of lime green embroidered/sequined organza, clear and translucent green vinyl. My first rule of sewing with vinyl: Don't. Seriously. It's a pain. But if you feel you must, have a lot of patience, plenty of corn starch and tape to put on the foot and feeder plates of your sewing machine. Lighting a hoop is also very time consuming and requires a lot of patience. The LEDs are hand-sewn except for the hoop in which they were run through clear PVC pipe. The doublet zips and is actually a hoodie!
Jay's slops are paned with the green embroidered organza as a base.
The belts and hat are also handmade out of 8-12 oz leather.
While they were a pain to make, they are so much fun to wear!