Electrical Light Parade inspired Belle Costume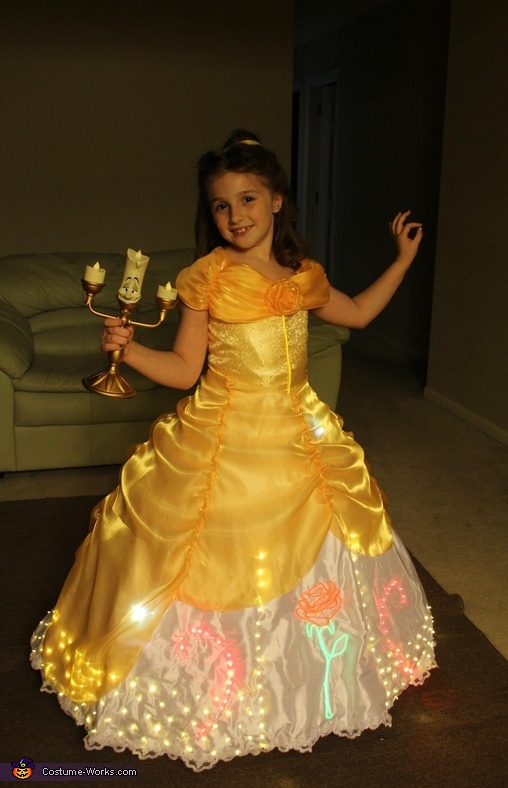 Finished Dress
More views:
(click to enlarge)
A word from Teresa, the 'Electrical Light Parade inspired Belle' costume creator:
This is my daughter wearing the costume I made her. I used 2 lilypad arduino micro controller boards (blinking white lighs), 1 2650 arduino micro controller board (for the swirling red lights), and EL Wire, Interverter with 3.7v lipo battery and a 5v power booster and approximately 600 LED lights.
I thought if Belle was in the Electrical light parade in Disney what would her dress look like? I had to learn to write code to control the micro controllers to control the lights and make them do what I wanted. I use white muslin layer to draw out the lighting plan in different color chalks. Used this as and underskirt and attached it to the taffeta and poked through the 3mm LED lights on each marked spot. This is all run on one circuit with a few different places connected to power to try and prevent to much of an outage in case of disconnect. I used a Beautiful Yellow brocade for the bodice of the dress. I ordered a matching gold sheer organza from china or Korea on Ebay. Even though it was said to be organza it was softer and more flowing than any other organza I've worked with which working out better for this project. It also had a beautiful gold metallic sheen to it. Under attached to the linner of the dress is two hoops. I LOVE it and took about 4 months to complete in my free time.
Here is a youtube video of my daughter in the dress: