Dracula and Zombie Costume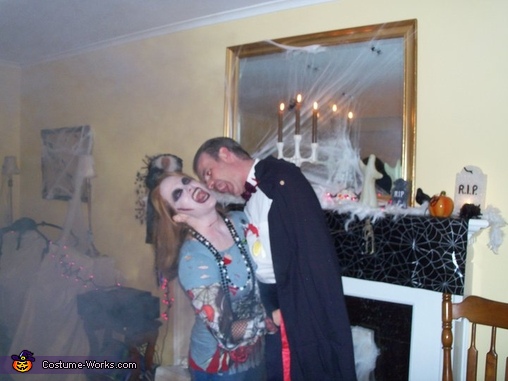 I Vant to Bite Your Neck !
A word from Angela, the 'Dracula & Zombie' costume creator:
This is my husband and I all dressed up for our annual Halloween Party. My Zombie costume is a t-shirt I bought and ripped up, inserted lots of safety pins and fake blood. Finished it with black pants, orange and purple hair extensions I bought at a drug store. My husband, dracula, is wearing a cape his grandmother made him out of black cotton lined in red satin. Underneath it is a white dress shirt and I made a matching red satin cumberbun and bowtie. I also took a piece of costume jewelry in the shape of a cross and tied it around his neck at the collar. I thought we looked pretty great!