Dr. Seuss Characters Family Costume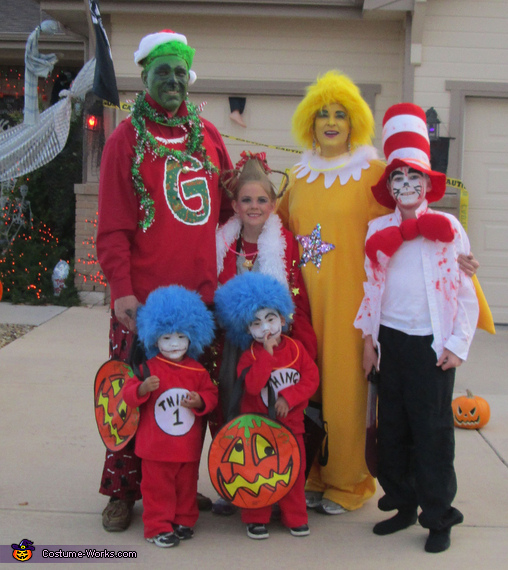 We Are Ready for Halloween!!
More views:
(click to enlarge)
A word from Susan, the 'Dr. Seuss Characters' costume creator:
We recently adopted 2 toddler boys from China and this was their very first Halloween, so we wanted to try to go with a costume that wasn't so scary for them. We chose Dr. Seuss!!
Since everyone thinks they are twins (they are 7 months apart) we decided to go with Thing 1 and Thing 2 for them! I bought a pattern and made the shirts and pants from red fleece, then put the white circle on with the iron on material and accessorized with fabric paint, including glow in the dark outlining. The wigs were bought on amazon.com.
My husband is the Grinch and I accessorized a tank that I bought for $1 at Walmart and he wore a long sleeved red shirt underneath. He wore pajama pants to make it look even funnier! We painted a wig green and pinned the Santa hat to the top of the wig!
I was a Star Bellied Sneetch,and I made that costume from a pattern meant to be either a penguin or a toucan bird. I added the star and gave it my own special twist to it by adding confetti stars. I bought the yellow wig on Ebay! We use Snazaroo face paint for all of us and I bought it on Ebay.
My oldest son agreed to the Dr. Seuss theme, but only if he could be a scary Cat in the Hat!I bought the shirt and pants from Goodwill and we used blood capsules to accessorize the shirt. We used stuffing inside the hat to make it stand up straight. I made the big crazy looking bow from red fleece.
My daughter is Cindy Lou Who and I bought her dress and red cape from Goodwill. I sewed the white trim onto the cape and we accessorized the outfit with costume jewelry. I used a plastic cup on top of her head and used 4 pieces of wire--one for each braid and finished her hair off with gold glitter spray!
What a great night! And---Zach and Tian (adopted from China in July 2012) had a VERY successful 1st Halloween in the United States!