Dr. Seuss Family Costume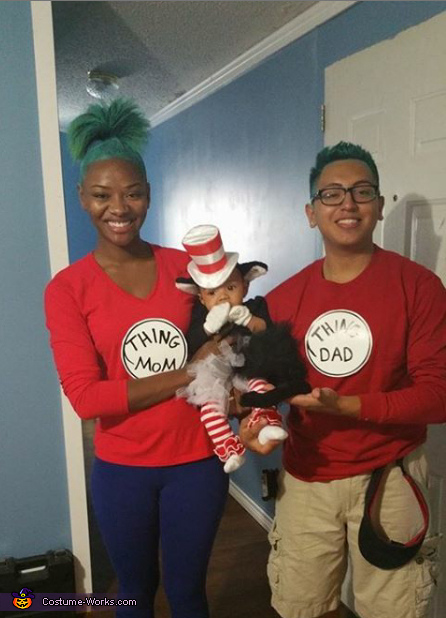 Dr. Seuss Family Costume
More views:
(click to enlarge)
A word from Aaliyah, the 'Dr. Seuss Family' costume creator:
Armando Rivera "Thing Dad"
Aaliyah Rivera "Thing Mom"
Aalivia Rivera "Cat in the Hat"
The idea was just something that came across my mind being a first time mom I knew that our costume shouldn't be anything creepy or frightening plus The cat in the Hat has always been my favorite.
"How-to" instructions:
Plain red long sleeve T-shirts, used white construction paper cut in a circle and outlined in black sharpie and words always handwritten in sharpie.
"Cat in the Hat " instructions
Plain long sleeve black onesie used black and white tulle for tutu for the hat i actually found a cat in the Hat doll and cut the hat off the doll and glued ot to an elastic head band. Used a pair of mittens that she already had and for leg warmers cut off the sleeve to a sweater i found grandmother sewed it tighter together and added ruffles.