Dory Costume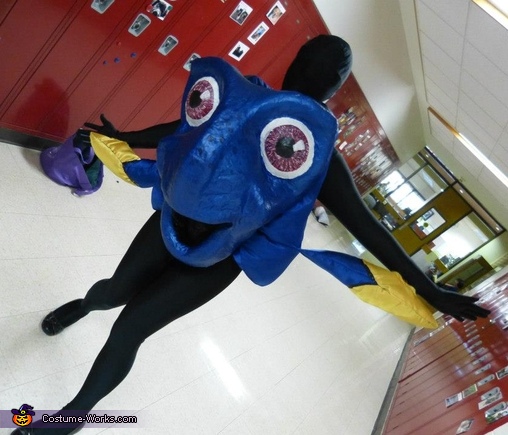 Dory swimming through the hallway
More views:
(click to enlarge)
A word from Sarah, the 'Dory' costume creator:
I'm wearing the costume, inspired from Pixar's Finding Nemo. Dory has always been my favorite animated character, and I decided to become her for Halloween.
How to make Dory instructions:
Head:
Using balloons create the underlying structure of Dory's face. I used a combination of regular balloons and long balloons and taped them together to a large piece of cardboard.
Use paper mache to coat the balloons. I used a paste of boiled water with flour and strips of newspaper. Typically you want to get 10-15 layers of paper over the balloons. It is best if you can allow a few days of drying time between each layer.
Allow a week or more for the paper mache to completely dry.
Pop the balloons from the back and remove the debris
Paint Dory's face using a photo as a guide. I used acrylics and found a metallic paint that helped bring more of a sheen to Dory's face.
Optional: Apply a spray sealant over the dry and complete head to better preserve it.
Body:
Obtain the following: blue fabric, yellow fabric, black fabric paint
Cut 4 large tear drop shaped pieces of fabric out of the blue fabric. Cut out a small hole in the middle to make an arm hole.
Sew 2 pieces together outsides facing in. Do the same with the other two pieces.
After sewing inside out, flip right-side-out and stuff with pillow stuffing (just a bit so there is still flexibility)
Cut a strip of fabric to connect the two pieces together in the back and another strip to connect in the front
Finish stuffing as desired
Using fabric paint and a picture as a guide, paint the traditional Blue Tang markings
Make fins and attach to body
Optional: add magnets so fins can be tacked to Dory's body or to your arms by wearing bracelets with magnets attached