Decidueye Costume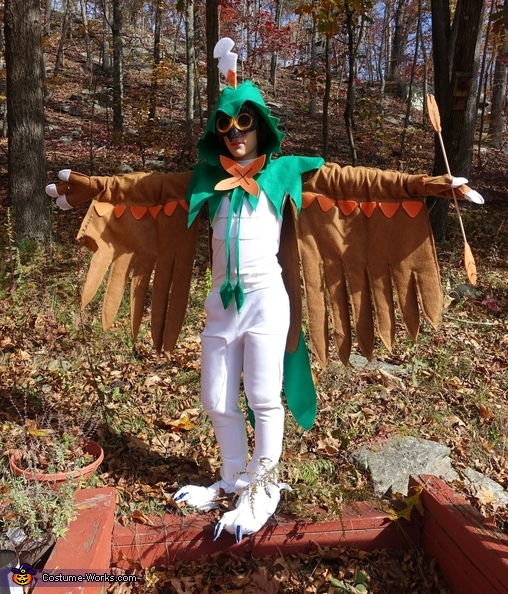 Decidueye Costume
More views:
(click to enlarge)
A word from Linda, the 'Decidueye' costume creator:
My son wanted to be a Pokemon character called Decidueye. I based the costume on images of a toy of the character, a few cosplay plans I saw online, and the Pokemon card he has.

I started by making a paper pattern of wings, and sewed them out of felt with a pocket for his arms and batting to make the feathers more pronounced. I sewed the pocket too small on the first try, so had to get out my seam ripper and have another go at it! When that was finished, I added the details in white and orange using adhesive backed felt. For the ends of the wings, I made a giant pair of gloves from felt that had three fingers, two were big enough to hold three fingers each. It made grabbing candy a little challenging, but luckily they detached!

From there, I moved on to the hood which was quite challenging as I've never sewn anything with dimension before! I made a practice hood with scrap fabric, and when I got that to work cut out the same pieces in green felt and sewed them together. I also added extra feathers and leaves as well as the orange feathers at the neck where it closed with velcro. The big feather sticking up from the hood was made from stiff felt and adhesive backed felt with the line drawn on with a sharpie.

For the white base of the costume, I used jogging pants and a rash guard. I added padding made from felt and quilt batting to the thighs and calves to make the pronounced muscles of the character, and added adhesive backed felt to make the definition on the front of the shirt.

After that, I moved on to the most fun part, the accessories. The mask started out as a witch's mask I bought at Target. I turned it upside down and the hat became the beak. I added orange tubing I found at the dollar store for the eyes, and recut the eye holes to match the eyes on the Pokemon card. For the "talons" I covered his shoes in plastic wrap then in white duct tape. I made the claws from aluminum foil wrapped in duct tape and then attached them to the shoes. He also requested arrows, which I made from dowels and adhesive felt. For the treat bag, I enlarged the Pokemon card on a color copier, double stick taped it to a tote bag, and edged the whole thing in orange duct tape.