Creepy Clowns Costume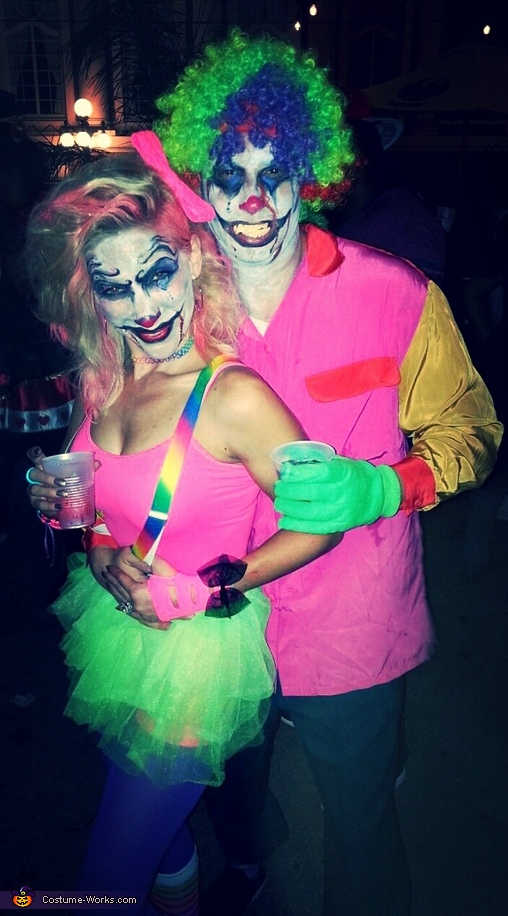 Clowning around!
More views:
(click to enlarge)
A word from Diana, the 'Creepy Clowns' costume creator:
My husband and I dressed up to be crazy creepy clowns this year and it was a huge hit and so much fun! We went to halloween horror nights this year and that's where we got the idea to be clowns. We wanted to be creative and make our own outfits. We made a trip to goodwill and found the perfect clown shirt and a pair of big fun colored slacks and the wig! A total of $15! My clown costume I purchased a glow in the dark tutu at Claires. Also the rainbow suspenders and rainbow socks, a total of about $30. Then came my favorite part that completed the whole look..the makeup!! I have never done any kind of makeup like this before so I got most of my ideas off pintrest and youtube videos. I used a cream paint for our white faces and then the rest was done with different color eyeliners and eyeshadows! I topped my look off with teasing my hair and putting some temporary color in it. That's it!! With a little bit of creativity and fun its amazing to see the final outcome! The process was so much fun!! Enjoy the photos & Happy Halloween!!