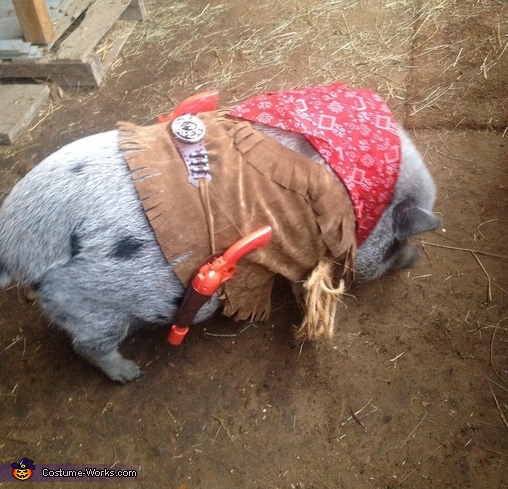 Leroy Allen Brown - toughest pig in town
More views:
(click to enlarge)
A word from Beth, the 'Sheriff' costume creator:
My adorable pig, Leroy Allen Brown, is dressed as a sheriff. I bought a yard of fabric that had a suede feel to it. I measured Leroy's chest, stomach and neck to make his vest. I cut the bottom of the vest to make a fringe appearance and for the collar I made a strip of fringe from left over fabric and sewed it on. I also sewed on two pockets to give it a real vest feel. I had to buy his cowboy hat. It is attached my a piece of elastic that goes around his jaws. On his left side of his vest, he is sporting a handmade sheriff badge made from cardboard and aluminum foil. I could not find a big enough one at the store. On his right side I used old baling twine and made a larriate so it appears as a rope. I had to buy the plastic guns and belt buckle but the belt that came with it was too small so I took some left over suede and cut it to fit. I bought a yard of the red fabric to make his bandana.