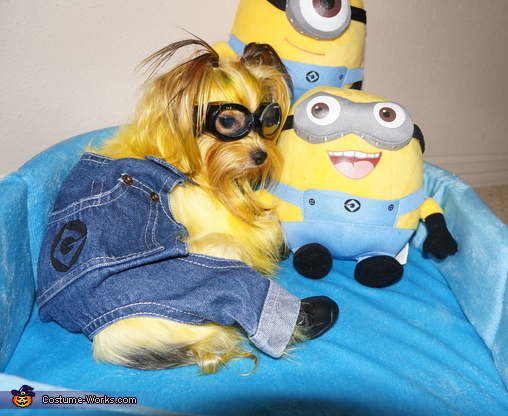 Somi the Minion hanging out with her Minion friends!
More views:
(click to enlarge)
A word from Ashley, the 'Minion from Despicable Me' costume creator:
Somi my yorkie is dressed up as a Minion from Despicable Me!! She loves to dress up daily, so of course Halloween had to be extra special!!
She is wearing overalls that I painted the "G" Gru symbol on using freezer paper that I drew the symbol on and cut out. She also has some black rubber boots for the Minions boots/gloves and some doggles with clear lenses for the Minion eyes! But most importantly she is dyed yellow so her hair is the same as the minion skin!!
www.facebook.com/somibear