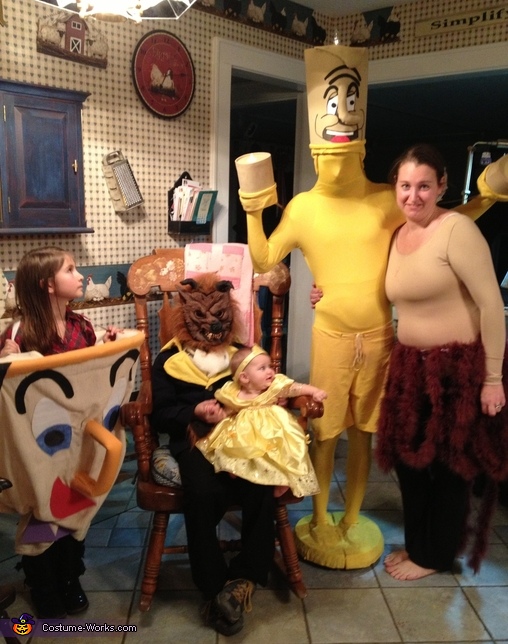 Beauty and the Beast Family Costume
More views:
(click to enlarge)
A word from Jordan, the 'Beauty and the Beast' costume creator:
The whole family dressed up as characters from Beauty and the Beast. Lumiere was by far the most challenging. Spent $28 on yellow man suit. Made candle head piece out of card board. Wrapped it around a baseball cap, hot glued foam face I had drawn and enhanced 3-D with other foam pieces. Added a Christmas candle in the middle of hat, added filler around it to support in the middle, wrapped fabric around foam to transition from jumpsuit to foam. The hands were cardboard wrapped in foam with led t-lights velcroed in place, fabric again transitioning from foam to suit. Used hot glue to attach everything. Sewed short in same fabric because jumpsuit was x-rated without them. The shoes were large pieces of styrofoam with wholes cut into them for the shoes wrapped in the same fabric. Fabric was $4 foam $3 and lights $3 so total cost $38 about 5 hours of time. End result a very very realistic Lumiere.