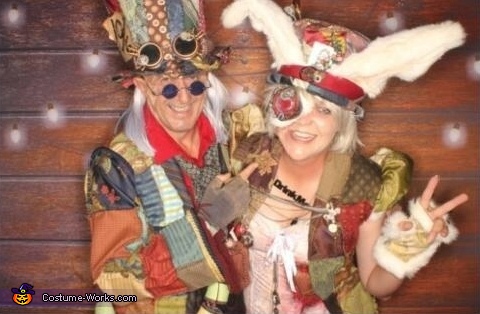 Mad Hatter & White Rabbit
More views:
(click to enlarge)
A word from Echo, the 'Steampunk Mad Hatter & White Rabbit' costume creator:
Mad Hatter is worn by John. White Rabbit is worn by Echo. I love to make hats, specifically out of found materials. The Hatter hat and W.Rabbit hat are both made out of mens' neckties. The jackets and W.Rabbit trousers are made from a brocade swatch book, sewn together to make the patchwork fabric. My Hatter has a bald cap with straight stringy gray hair. The steampunk W.Rabbit Monocle is made of foam, faux leather, bicycle tires from toys, a rose earring, a few pieces from a pair of glasses, and a lot of electrical tape. W.Rabbit's feet are motorcycle boots covered in rabbit fur from a thrift store coat. Hatter's trousers are spray painted stiped. W.Rabbit's corset is hand painted an hand sewn Queen of Hearts bleeding heart. There are many Alice themed necklaces and watched sewn everywhere across the costumes, and lots of watch pieces. The hat pins are actually real and not handmade. W.Rabbit needed a purse, so that's what is around my waist. Hatter has a hidden Door Mouse in his tea pot in his Left jacket pocket. Lots of liquid latex attached the fur and monacle to W.Rabbit's face. W.Rabbit's hands are hand made fingerless gloves, traced in fur, and holding a key and a lock, as well as log rabbit claws made from multiple plastic nails glued together and painted. We had a blast showing off these costumes!